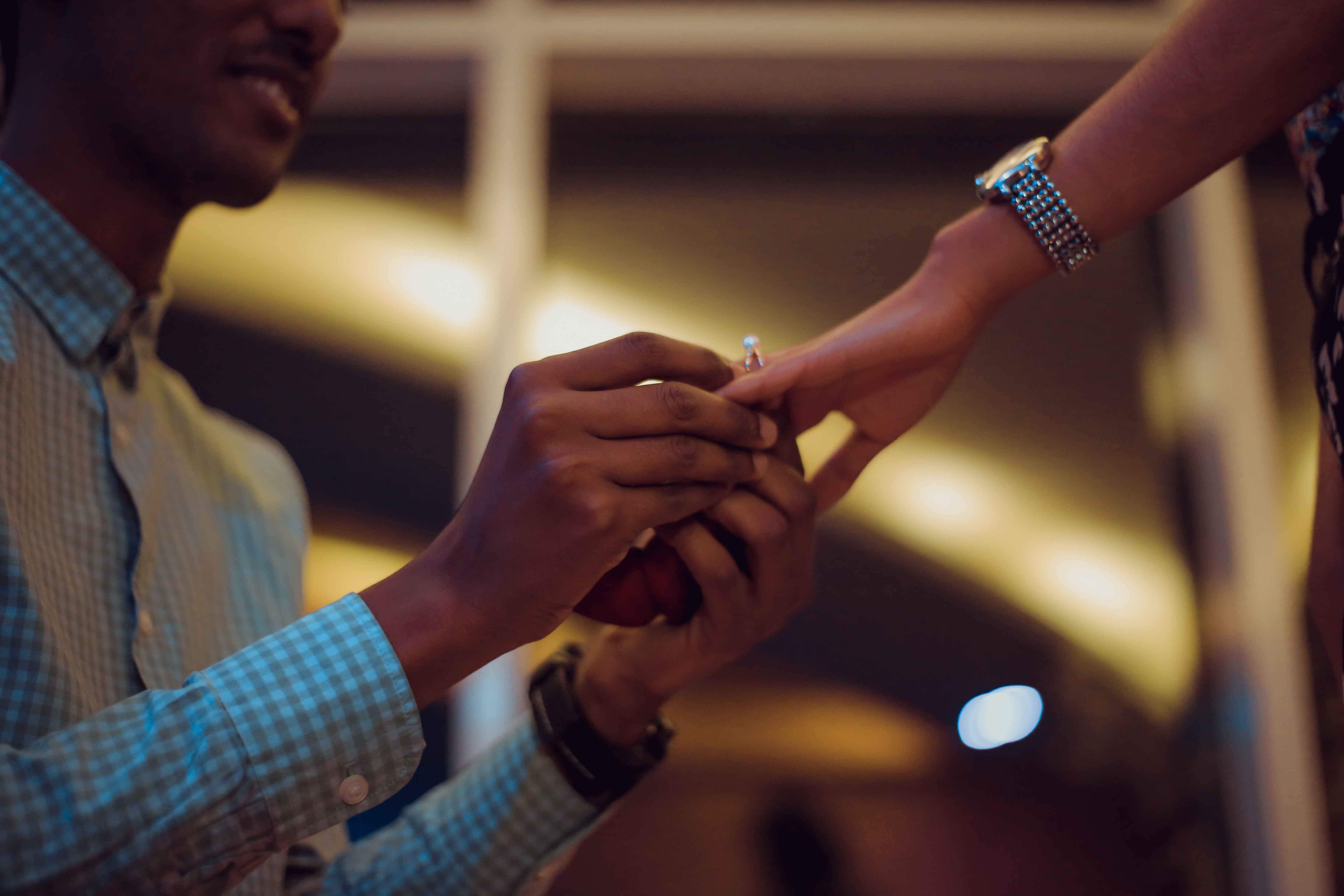 An engagement ring is considered one of the most special representations of a couple's love and commitment. Though they've long been marked by traditional styles and designs, more and more couples have been shifting towards a fresh, modern approach to jewelry. Eschewing tradition, these couples are choosing original designs that resonate with their personal style, whether that's with a uniquely designed ring or one with a meaningful story at its heart. There's no one-size-fits-all with engagement rings. But if you're unsure of where to start your shopping, read on to discover 5 of the latest trends in engagement rings.
1. Colorful Gemstones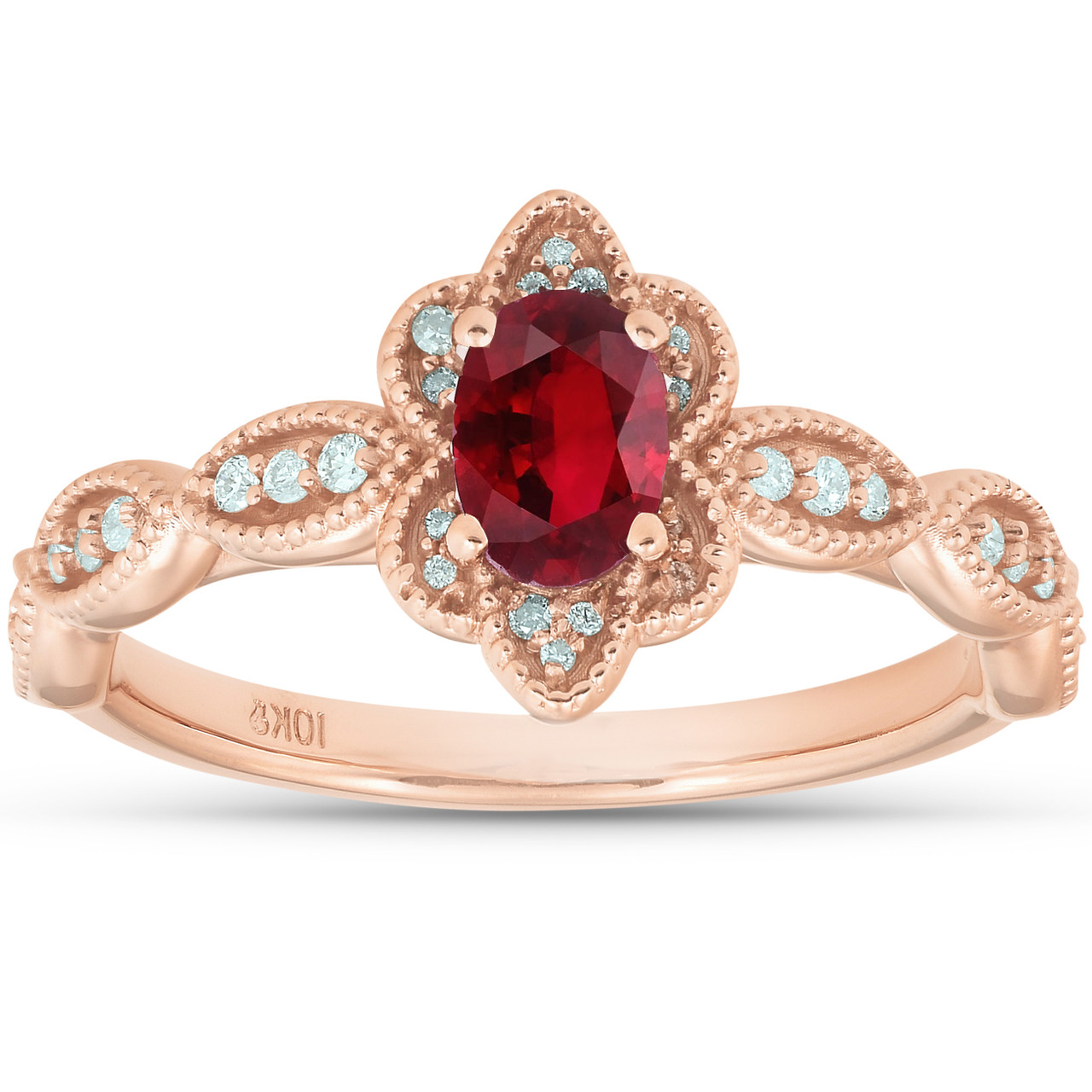 ¾ Ct Oval Genuine Ruby & Diamond Halo Anniversary Engagement Ring Rose Gold (H-I, I1) - $512.24
While diamond engagement rings are a traditional and popular choice that will never go out of style, gemstone engagement rings are having a moment. A colorful alternative to diamonds, this current engagement ring trend enables you to choose something vibrant that matches your unique personality and love story. Gemstones come in plenty of colors, from deep greens and blues to rich purples and reds, so there's a style that everyone will admire with each sparkle. Particularly popular colorful gemstone options today include emerald, sapphire, and morganite engagement rings.
In addition to being boldly unique, gemstones hold a lot of beautiful, meaningful symbolism that couples love. For example, sapphires represent faithfulness, sincerity, and loyalty, while emeralds are associated with true love, fidelity, and new beginnings.
2. Vintage Inspired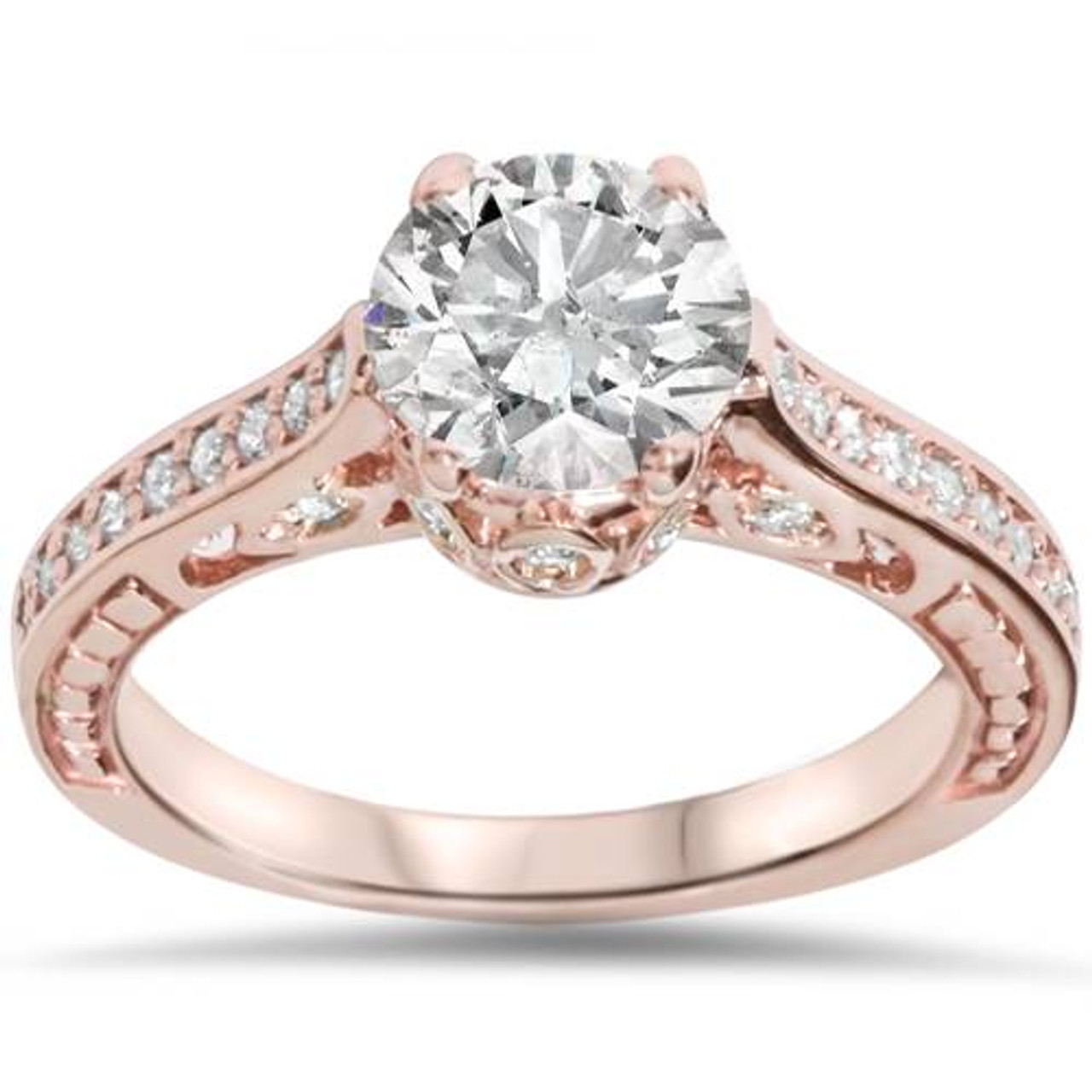 1 1/4ct Vintage Rose Gold Diamond (1ct center) Enhanced Deco Engagement Ring 14K (H-I, I1) - $2,167.74
From fashion to entertainment, vintage finds have taken center stage. One of the most popular current engagement ring trends, vintage rings introduce intricate designs, distinctive style, and antique romance into engagement rings. Like gemstones, vintage-inspired rings offer significant variety in color and settings. It could mean being inspired by 1920s Art Deco, the Victorian era, and more. These old-meets-new engagement rings often feature striking designs around the center stone, such as filigrees, cut-outs, and milgrain, creating a one-of-a-kind vintage piece.
3. Oval Shapes
3/4ct Oval Opal & Diamond Halo Ring 14K White Gold (G-H, I1) - $512.24
Though the oval engagement ring is one of the latest trends in engagement rings, this is not a new style. In fact, the modern oval diamond engagement ring was first created in the late 1950s. Quick history lesson: oval diamonds have been considered desirable for hundreds of years. It wasn't until a famous Russian diamond cutter named Lazare Kaplan used his expertise to create the modern oval shape crafted from diamonds regarded as "useless" by others earning him a spot in the Jewelers International Hall of Fame.
Popular amongst celebrities, the oblong shape is attention-grabbing and lets the diamond or other stone speak for itself. This engagement ring may be a current trend, but it will remain a timeless and distinctive choice for years to come.
4. Black Diamonds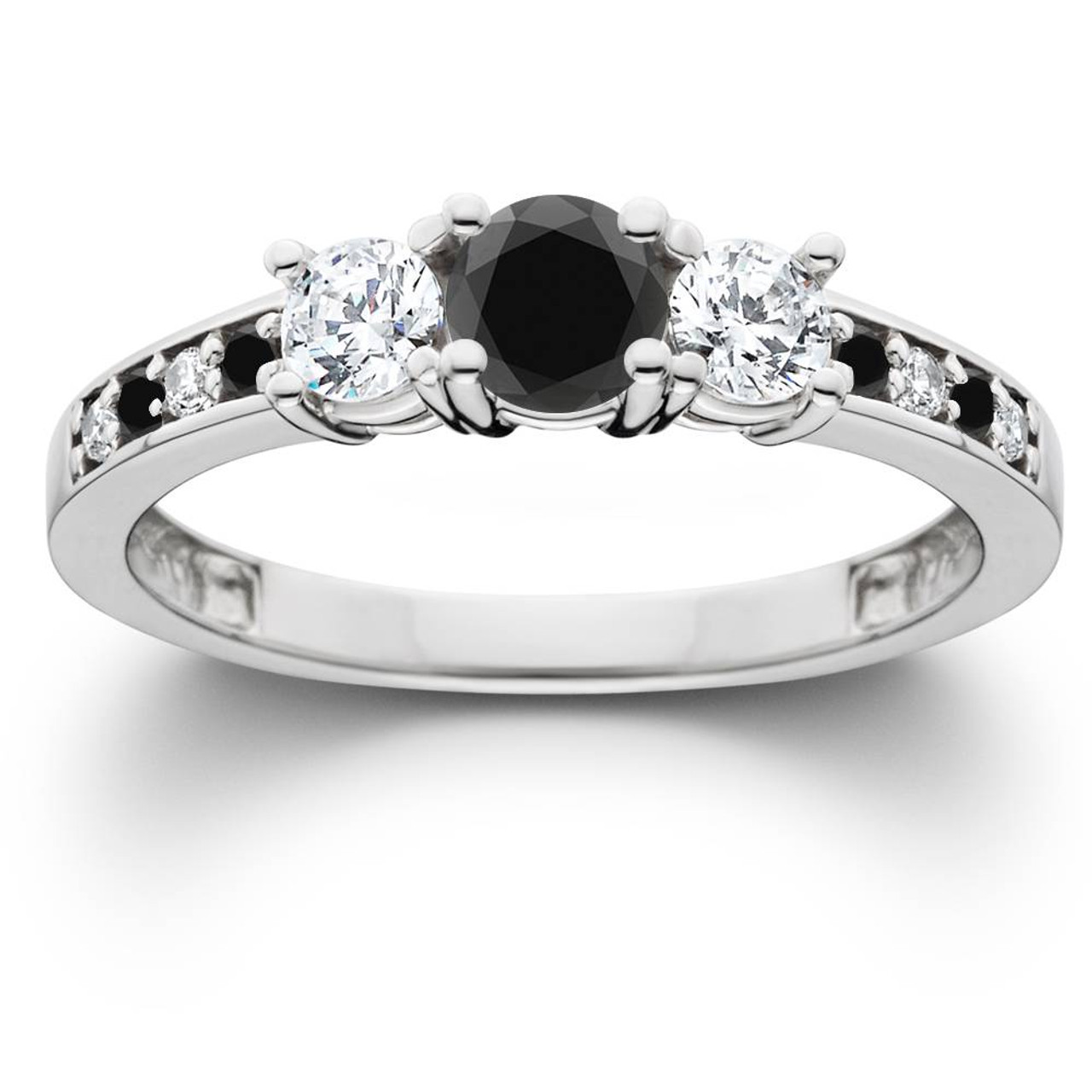 1 1/4CT Black & White Diamond Engagement 3-Stone Engagement Ring 10K White Gold (H-I, I1) - $678.06
If traditional diamonds are notyour style, but you still want the simplicity of a neutral, black diamond rings are the latest trend in engagement rings you'll love. Once a rare choice, modern couples have been captivated by the gorgeous, eye-catching style of black diamond engagement rings. It's easy to understand why. Beautiful in any setting, from solitaire to halo, these luxe engagement rings offer an incredibly unique and mysterious look that really pops against white, yellow, or rose gold.
Black diamonds are another current engagement ring trend that holds symbolism. First discovered in Brazil and named "carbonados" by Portuguese settlers, these stones are associated with originality, strength, and passion, making them the perfect choice for an engagement ring.
5. Two Stones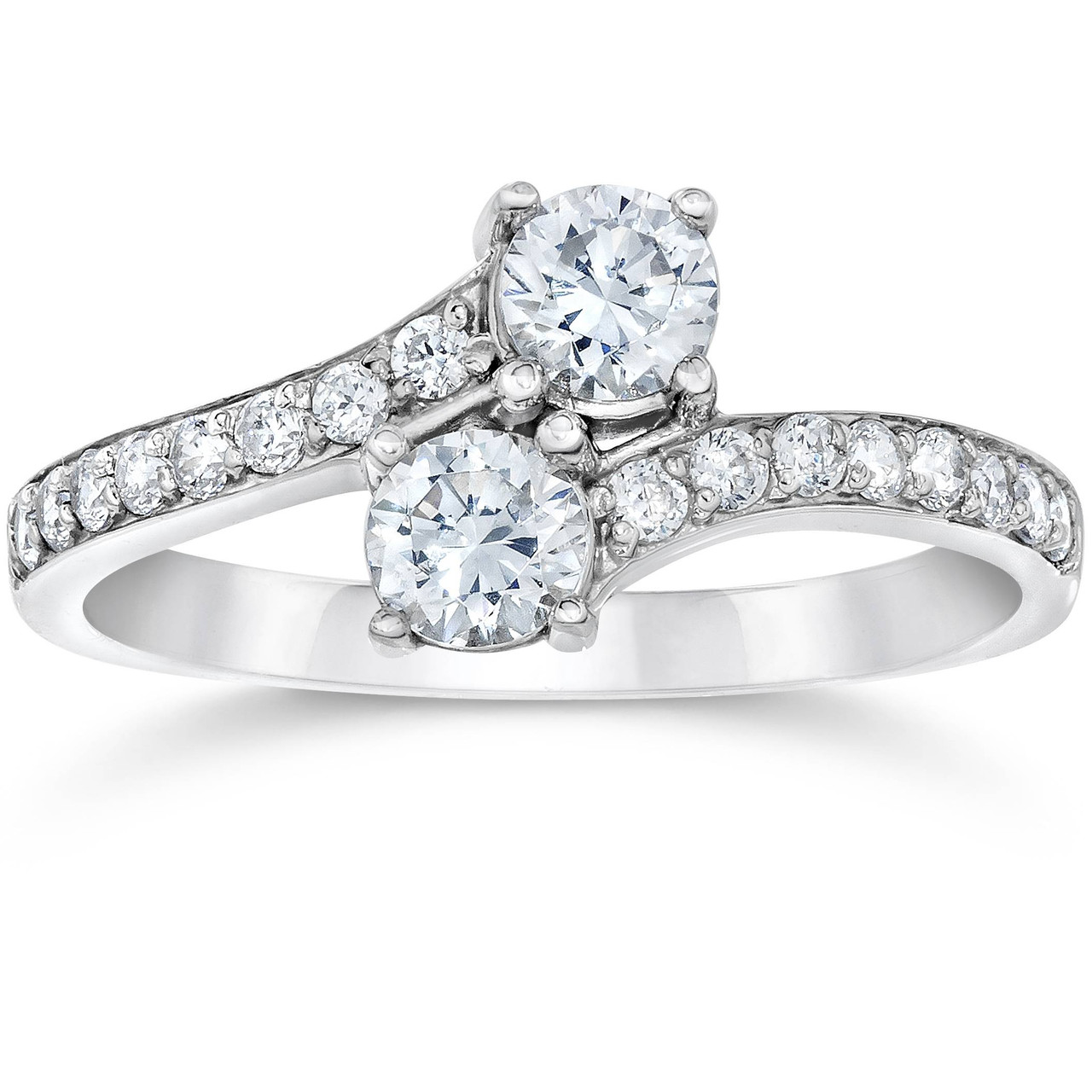 1 1/2CT Forever Us 2-Stone Two Diamond Ring 14K White Gold (HI-I1) - $1,067.19
Two-stone engagement rings, known as toi et moi (French for you and me), are another one of the latest trends in engagement rings that have risen to popularity in recent years despite having existed for centuries. These rings feature a band that coils around the finger, with two matching or distinct gemstones at its ends that meet. The two stones are symbolic of love, commitment, and the union of two souls coming together to form a harmonious relationship.
Why consider this current engagement ring trend? Double the love, two-stone engagement rings are extremely versatile, timeless, and representative of individuality. Choose from a myriad of shapes, colors, and dynamic designs that match your partner's personality and your connection.
Get Inspired By Current Engagement Ring Trends
The latest trends in engagement rings show a piqued interest in uniqueness, individuality, and vintage design. From rings infused with moments of color to different cuts and detailing, there are options that fit everyone's style, personality, and unique love.
A family-owned and operated business, Pompeii3 is a retailer and designer of fine jewelry that offers you both traditional and contemporary engagement ring styles. With over 100 years of industry experience, we use our expertise to bring you thoughtfully handcrafted pieces that make your engagement ring dreams a reality. Shop these current engagement ring trends and explore traditional styles with a modern twist to discover your perfect engagement ring.