With Easter right around the corner, you may be looking for a special diamond gift to mark the occasion. Of course, with the deep spiritual significance of Holy Week and Easter, you'll be looking for a gift that is appropriate for the holiday. Our suggestion? How about checking out our wide variety of diamond cross necklaces! A diamond cross pendant is a meaningful and tasteful gift befitting of the occasion.
Diamond Cross Pendants as Unique as They Are
If you think that all diamond pendants in the shape of the cross look the same, you've never seen the selection we've created at Pompeii3. We know your loved one is unique, which is why we carry an eclectic selection of diamond crosses.
If you're looking for some inspiration, our team at Pompeii3 recommended three of their favorite pieces.
Go Vintage

1/2ct Vintage Pave Diamond Cross Pendant 14K White Gold (G/H, I2) ($491.81)
Does your loved one appreciate jewelry that looks like it has history? Vintage white gold diamond crosses are some of our favorites—and we think they'll be yours as well. What really sets our diamond cross pendant apart is the half carat of pave diamonds that are intricately set into the cross itself. Pave design means that the entire piece looks as if it's been paved with diamonds. The final effect is a vintage look that's absolutely stunning without looking ostentatious. It's perfect for Easter, but we think your loved one will be wearing it all year long!
Look for the Details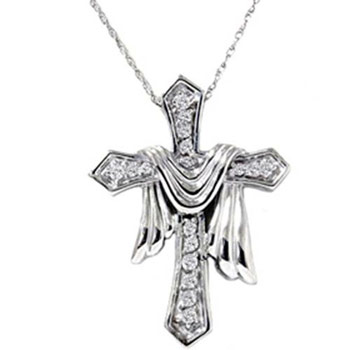 1/4ct Real Diamond Fancy Cross Pendant 14K Necklace (G/H, I1) ($383.90)
Look for small details that really make the pendant stand out! For example, our 14 karat white gold diamond cross pendant boasts a unique design that you won't find on most other necklaces. Featured prominently on the piece is the symbolism of a cloth draped around the cross, which is different from the standard crucifix which has an image of Christ still hanging on the cross. This message? A touching reminder that Christ is no longer on the cross but has risen. What a joyful reminder! After all, isn't that what Easter is all about?
Think Modern

Diamond Cross Pendant Round Solitaire 10K Yellow Gold (G/H, I2) ($120.99)
If you're looking for a diamond cross pendant that is truly distinct, you should consider a modern-styled cross pendant. In fact, our one-of-a-kind piece features a beautiful diamond that is uniquely set into the center between two pieces of the cross. The end result is eye-catching and tasteful. Additionally, this pendant is one of our most affordable pieces, making it a tremendous value. With all the money you'll end up saving, you'll have extra in the budget for Easter brunch!
Choose Easter Gifts With Style from Pompeii3
When you choose a diamond cross pendant from Pompeii3, you'll always get high-quality jewelry at the lowest possible prices. For over 100 years, we've been crafting jewelry that's perfect for every holiday and special occasion. If you have questions about our selection, or you need some assistance choosing the perfect cross necklace, contact us today so we can help!