Posted by Pompeii3 on Jan 23, 2019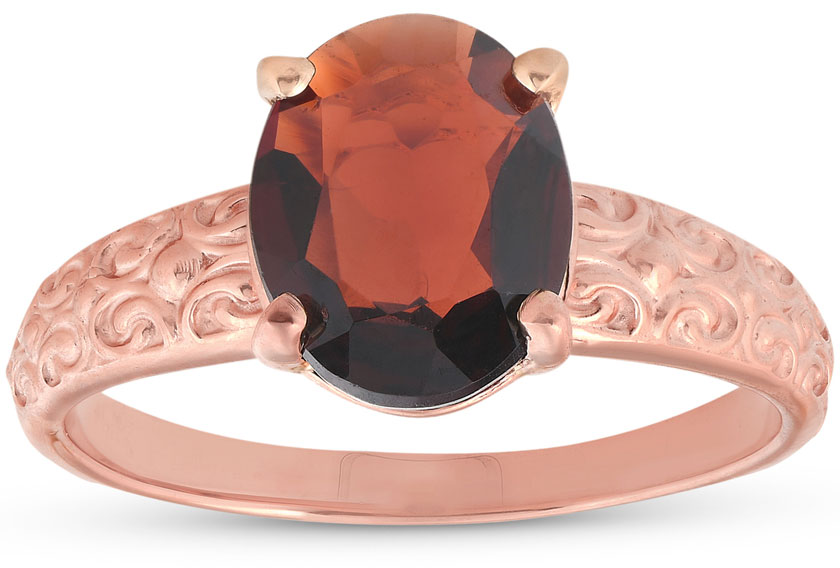 For years, many women desired to have the classic diamond engagement rings and wedding bands, with those "girls' best friend" being the only precious stone featured. Of course, those rings are still popular today, but recently, women have been opting to put a pop of color in their bridal jewelry by utilizing the beauty and color of other gemstones pieces.
After all, why not? Diamonds are beautiful, but so are rubies, sapphires, and emeralds! Adding these stones as accents, or even as a center stone, is a bold and glamorous choice. Many find that including a hint of green, blue, or other colors to their engagement rings actually makes their diamond even more brilliant!
Also, choosing to use birthstones is a fantastic way to add meaning to an engagement or wedding ring. A birthstone allows your engagement piece to tell a story. You can utilize your own birthstone for engagement rings or even have both of your birthstones featured.
A Stone for Every Month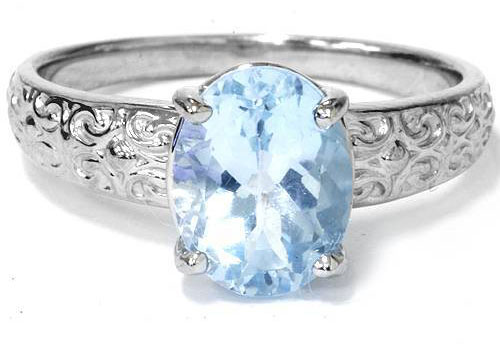 If you're considering birthstone wedding rings, you'll need to be familiar with the birthstones. According to the Gemological Institute of America, they are:
January: garnet
February: amethyst
March: aquamarine and bloodstone
April: diamond
May: emerald
June: pearl, alexandrite, and moonstone
July: ruby
August: peridot, spinel, and sardonyx
September: sapphire
October: opal and tourmaline
November: topaz and citrine
December: tanzanite, turquoise, and zircon
Of course, if you were born in April, you've got plenty of choices for birthstone wedding rings! Although the other 11 months may seem more difficult at first, we at Pompeii3 make sure many of them are also represented in our collection.
You've Got to Look in the Right Places
If you were to walk into a jewelry store and ask a salesperson for a look at engagement rings, they'd likely take you to a case filled with diamond rings set in white gold, yellow gold, or platinum. Sure, there will be other choices of gemstones and metals, but over 90% (at least!) of the selection you'll find is of the traditional variety, and you'll see very few birthstone wedding rings. This may cause you to think that they don't exist. But, think again!
Instead of looking for a wedding ring or engagement ring in the bridal section, branch out and look at all of the other rings that are being sold. You'll start to realize that there's an extremely large selection of birthstone engagement rings available, especially at online stores like ours, they're just not always in the section with the wedding rings. Don't feel constricted by the traditional labels that are made by the jewelry industry and look around at all of the available options, even if they aren't considered "bridal jewelry."
In fact, we design various birthstone options, including sapphire, that are easily searchable in the engagement ring and wedding ring sections of our website.
What to Do When You Still Can't Find the Perfect Ring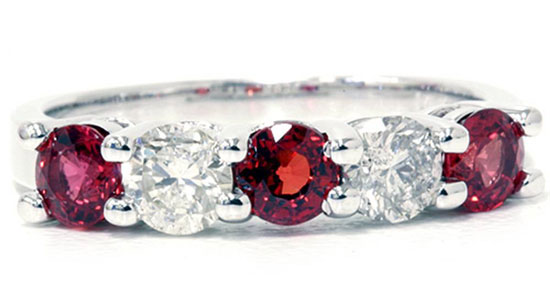 Even if you expand the field of your search for birthstone wedding rings, you may still have difficulty finding the perfect piece. If that's your situation, don't panic. There's an option that's perfect for you: why not create your own custom jewelry?
Many people are intimidated by the customization process, but there's no reason to be. Creating unique jewelry is simple when you're working with our expert craftsmen, and the designers at Pompeii3 can help you create the perfect piece that will be totally one-of-a-kind.
Although the process may seem complicated, there are several options you can choose to make the process go smoothly:
Find a ring you love as a base: If there's a traditional diamond engagement ring you love, but wish it had your birthstone incorporated into it somehow, contact us at Pompeii3. We may be able to simply switch out some of the diamonds with other gemstones. If not, we can make a custom piece that's similar to the one that you like from scratch.
Sketch out an idea: If you have the perfect birthstone engagement ring idea, but can't find anything like it online or in a store, sketch it out. Even a simple drawing, in the hands of a master craftsman, can turn into the ideal piece.
Contact our craftsman directly: Can't quite find exactly what you're trying to find, and you can't find a way to draw it out? No worries! Fill out our online form and let one of our craftsmen contact you. They'll talk to you and help you identify exactly what you want to do.
Pompeii3 Has the Birthstone Jewelry You Want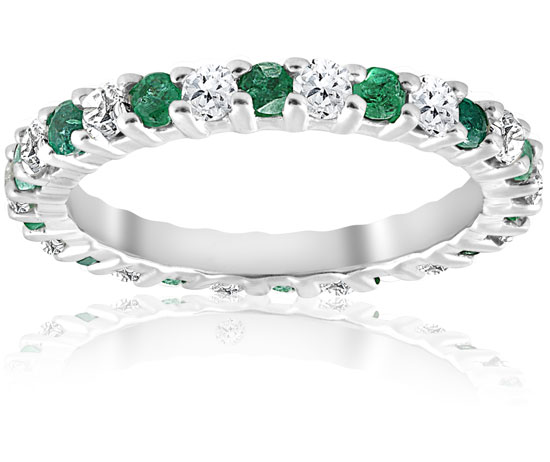 If you're looking for something unique, you'll want to work with a company that shares your tastes and vision. Although the big box jewelry stores at your local mall do have some selection, they're not really equipped to handle helping you find the birthstone wedding rings you're looking for.
Pompeii3 has been creating jewelry that people love for a century right here in the United States. We are family owned, and we hold ourselves to the highest standards. We won't be happy until you're happy.
Contact us today and see how we can help you find the perfect birthstone wedding ring!