Posted by Pompeii3 on Aug 15, 2017
Men's wedding bands are more important than you think. This is really the one piece of jewelry he may wear potentially forever, so it should fit his style, whether it's unique or classic. Today "vintage" and gold accent engagement rings are very popular, as are men's carved wedding bands.
That's why we made a new collection of vintage men's wedding bands that compliments the engagement ring but still look masculine. The ring above has hand-carved leaf cuts with a beaded edge. It measures 8mm, so it has weight and width. The white gold is a stone finish, which is slightly different from the traditional satin finish that you see on all other rings.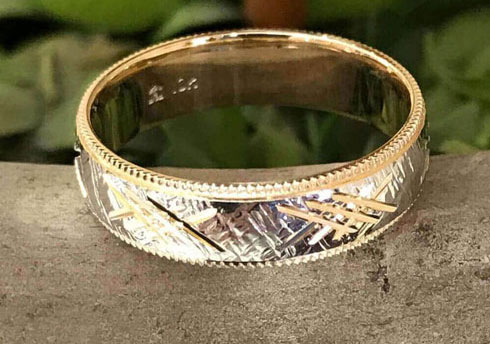 This ring is one of my favorites from our selection of vintage men's wedding bands. It has cross hatchings with a wire white gold polished finish that gives it an edge, which is great for the guy who likes to listen to his music a little louder. Of course, we also have an entirely white gold version you should check out as well. both measure 6mm wide, which is the most popular width for men's bands.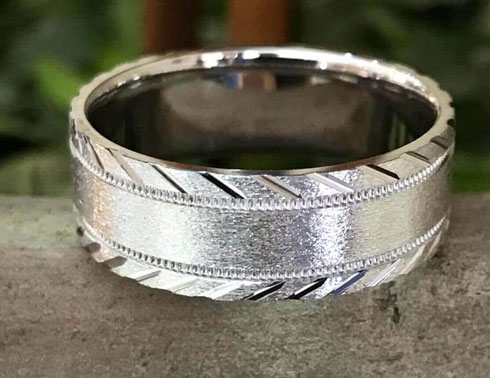 Classic with a vintage twist, this 7mm wide white gold band has a brushed finish with bright diamond cuts. It's not shiny but has just the right amount of edge to be different from the other rings you may see. The width is a good, happy medium that is not too wide or thin -- perfect for size 8-12 fingers!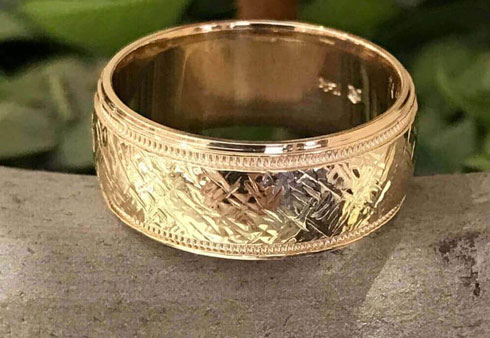 This men's wedding band features a wire finish, beaded insert, and polished flat edge. Its unique yet classic. Measuring 8mm wide, this vintage men's wedding band definitely has good weight and width giving it a masculine look and feel. It's the perfect ring for a man to enjoy forever.
Explore the entire collection of unique gold wedding bands for men at Pompeii3, and get him the most meaningful piece of jewelry he'll ever wear.