Posted by Pompeii3 on Jun 17, 2018
Your wedding rings are one of a handful of pre-wedding decisions that will last beyond the wedding day. Once your cake has been eaten and you've spent the night on the dance floor with family and friends, your wedding rings will remain a part of your lives for the rest of your marriage as a symbol of your love and commitment to one another. That said, choosing wedding bands should be enjoyable and fun! For his and hers wedding ring set options, the modern couple has plenty of stunning choices that will help you show off your love.
Matching wedding sets are a wonderful way to show your sense of unity as a couple, and there have never been more styles available to couples who are about to tie the knot. There are so many options for his and hers wedding ring sets that will help you demonstrate your commitment and express your personality as a couple. Pompeii3's wedding ring buyers guide will help you explore your options and find rings that best represent your new life together
Keep it Classic with Polished Bands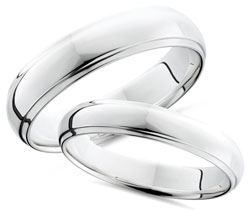 If your style is more traditional than avante garde, then his and hers matching wedding sets in a simple polished band may be the right option for you. These wedding bands offer classic appeal, and you can rest assured that your wedding rings will always remain in style over the course of your marriage. Choose from polished wedding band options in a variety of metals, such as rose gold, platinum, white gold, and yellow gold to find an option that suits your preferences and styles.
If you love the look of a classic polished band but want to add a little visual interest, you can also opt to have your his and hers wedding ring sets engraved. You'll love the feeling of wearing your spouse's initials every day, and this intimate, touching detail is a sweet way to make the bands your own.
Mixed Metals and Two-Tone Sets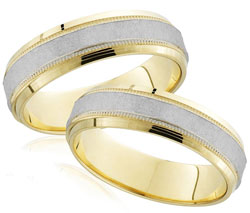 Two-tone his and hers wedding ring sets are a stylish way to add a little something extra to your wedding bands without straying too far from traditional styles. Two-toned bands often incorporate two different colors of 14k gold for contrast. In some bands the contrast is more subtle, like a his and hers wedding ring set made of white gold and yellow gold. Other two-tone rings use hammered gold and regular gold in the same metal, but the different treatment creates subtle variations in color and appearance for that two-toned effect. If you like the streamlined look of a polished gold or platinum band but feel as though you might like a little something extra, then a two-tone his and her wedding ring set may be a fantastic look for you and your spouse.
Eternity Bands for His and Her
At Pompeii3, we love eternity bands for their attractive appearance and their sweet symbolism. An eternity band is a ring that features a continuous circle of diamonds, meant to evoke the endless nature of your love. These his and hers matching wedding ring sets also come in various types of metals, which will help remind you of your devotion to one another day in and day out. While all wedding rings have a special symbolic value to their wearer, the extra diamond details in these his and hers wedding ring sets make them one of our favorites for newlyweds.
Elegance is in the Details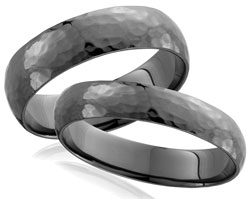 Details like hammered gold, swiss cut details, and milgrain edging can add personality and style to your wedding ring sets. Hammered gold for wedding bands is a style on the rise, as the interesting texture makes these rings look modern while hiding any small dings that naturally occur over time. Available in a variety of gold colors, including white gold, yellow gold, black gold, and rose gold, you and your sweetie will be sure to find a fashionable yet timeless set that both of you will love to wear and show off.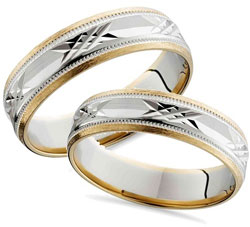 Other details, such as milgrain edging and swiss cut designs will make your his and hers wedding ring sets feel distinct and unique. Swiss cut center designs are another way to add dimension and texture to your matching wedding ring sets. Another option for those looking for something a little more intricate than a standard polished ring are rings that feature milgrain edging for a stylish border detail that will add a subtle bit of visual interest.
Show off Your Love with Diamonds
If you want your his and hers wedding ring sets to stand out from the crowd, diamonds are the way to go. Whether you are looking for a restrained ring studded with just a few simple diamonds or prefer something with plenty of dazzle, you can never go wrong with this luxe look. Diamonds look stunning in any setting, so choose the metal and color that feels best to you as a couple. From traditional platinum to trendy rose gold, the diamonds in your his and hers matching wedding ring sets will really pop.
Focus on Authenticity and Quality Materials
Wedding rings are one of the most important ways you will express yourselves as a married couple, and Pompeii3 is proud to offer quality wedding ring sets that will become an important part of your love story. All of our rings are handcrafted in our Illinois facility and are guaranteed to be authentic and high-quality, so they will last as long as your love. Explore our selection of engagement rings to see more of what we offer, and be sure to visit our blog often for insider jewelry trends and tips.