Did you know that every birth month has a unique gemstone attached to it? Similar to the Zodiac, every gemstone is believed to have unique attributes associated with it. Here we will cover each birthstone, what is represents, and great gemstone birthstone jewelry to proudly display your birthstone.
January - Garnet
Garnet is a symbol of love and faith. If you are born in January, ambition and seriousness are marks of your personality. You know how to work hard and get things done. You value loyalty and are extremely loyal to those you care about. And even though you are highly sensitive, you like to socialize.
February - Amethyst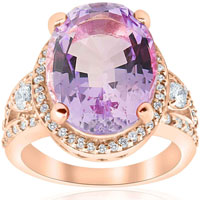 Those born in February are extremely intelligent--nothing gets past you. Because of your innate intelligence, you are highly creative as well. Despite your above average abilities, you are surprisingly humble and quiet. You possess a deep wisdom beyond your years. People with amethyst are daring and always follow their dreams.
March - Aquamarine
Aquamarine is associated with youth, love, and hope. This unique birthstone jewelry is known for its purifying and healing powers. You can be secretive and value peace and serenity. You love to be around friends and family and you value loyalty as well. Aquamarine babies are fighters and lovers.
April - Diamond
If you were born in April then your stone is a diamond. The hardest naturally occurring substance, diamonds symbolize invincibility. Some even believe that if you wear diamonds you can ward off insanity. You are fun-loving, active, and possess an immense amount of inner strength. You're the life of the party and everyone's favorite accessory.
May - Emerald
Emeralds are known for promoting good health, faithfulness, fertility, and improved eyesight. If you're an emerald baby, people probably know you as the social butterfly of the group. You love bouncing from one outing to another. You're extremely intuitive, quick witted, and can easily read a room. People trust you because of your light humor and easy going demeanor.
June - Pearl
Pearls are often associated with modesty and stable relationships. It's believed that pearls help promote good health, alleviate anxiety symptoms, and promote prosperity. If pearl is your birthstone, you're happy just being yourself. This confidence will always lead you to the right path.
July - Ruby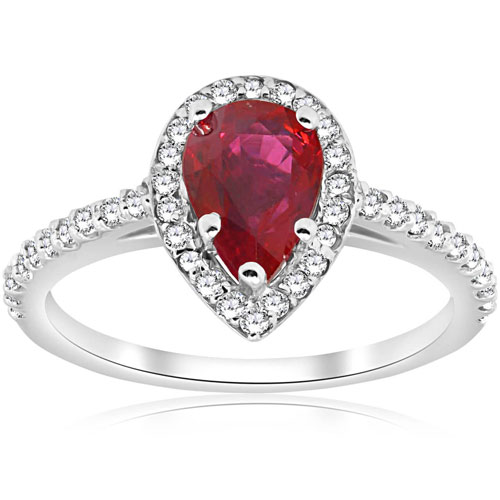 Ruby is associated with the Sun earning it the title of "King of Gems." It promotes wisdom and success of the person wearing it. If your stone is ruby, you seek power, exude confidence and charisma, and are naturally hardworking. You are deeply emotional but despite this, you tend to hide your emotions. Historically, rubies were worn by royalty.
August- Peridot
If you were born in August, you are likely observant, talented in the arts, and an independent thinker. You have a unique way of tackling life's biggest challenges and you're never afraid of new beginnings. Peridot is believed to keep depression and evil away. It's also believed to be beneficial to the nervous and endocrine systems. This gemstone birthstone jewelry can be worn as earrings, a necklace, and looks beautiful as a ring.
September- Sapphire
You're everyone's favorite friend because you're confident and fiercely loyal. Those with a sapphire birthstone are the ultimate truth seekers. You value honesty and refuse to allow deceptive people around you. While mentally strong, you work hard to keep your more emotional side hidden from the world. Sapphire is associated with dignity, wisdom, and spirituality. In medieval times, clergy wore this unique birthstone jewelry to symbolize heaven.
October - Opal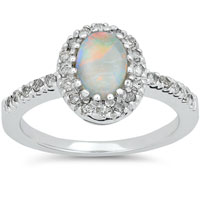 Those born in October strongly believe in the good the world has to offer them. Your genuine nature creates deep connections and lasting friendships. Opals are linked with hope, creativity and promote a healthy mind and brain function.
November - Citrine
Sharp and self-motivated, you always know right from wrong. Much like October and opals, you are highly optimistic. Because of your optimism, your personality is highly contagious. Everybody wants to be your friend. Citrine is believed to be a healing gemstone that improves wellness and rejuvenates your energy naturally.
December- Turquoise
Turquoise is believed to energize and remove toxic substances from the wearer. If your stone is turquoise, then you are known for pursuing what you believe in without worrying about what others may think. You live to be inspired and you love to inspire others. Turquoise is also a symbol of wealth, strength, protection, and spirituality.
Find the Perfect Way to Wear Your Birthstone
If you're looking for a new piece of jewelry that is as beautiful as it is inspiring then check out our selection of unique birthstone jewelry. Our pieces cater to a wide range of aesthetics and styles. With over 50 years of experience in gemology and design, we're sure we can help you find the piece you didn't even know you were looking for.