Posted by Pompeii3 on Aug 15, 2017
Buying an engagement ring is a big purchase! Its most likely one of the biggest purchases you're making if its your first proposal. Doing research is a great way to your due diligence and make sure you're getting the best diamond engagement ring. These are the most important questions to ask yourself when buying a diamond engagement ring.
What is the quality? The common reply is the 4c's; cut, color, clarity , and carat weight. These are pretty straight forward. Cut is shape. Color ranges from D-Z D being the whitest in color. Clarity is how clear or included is the diamond. Is there a chance we might see some visible inclusions, if so than you're looking at an "I" clarity diamond. You will generally get the most bang for your buck if you purchase an I clarity diamond. Most women love large diamonds so we recommend this clarity. Carat weight is straight forward this is a unit of measure, simply put how much does the diamond weigh. You can view more on our jewelry education page; https://www.pompeii3.com/jewelry-education/
What metal for an engagement ring? The most common metals for engagement rings are 10k, 14k, or 18k white, yellow, or rose gold, platinum and palladium. 14k is the our recommendation is has the most amount of gold to last a lifetime and give the metal good shine. 10k is great too, its a bit harder than 14k so if you know you're hard on your jewelry than this probably not a bad choice either. If you're looking to spend a bit more platinum is a nice choice and unfortunately the only real option for women with gold allergies and want a white metal color. Rose gold is trending and has become very popular with todays classic and vintage engagement rings.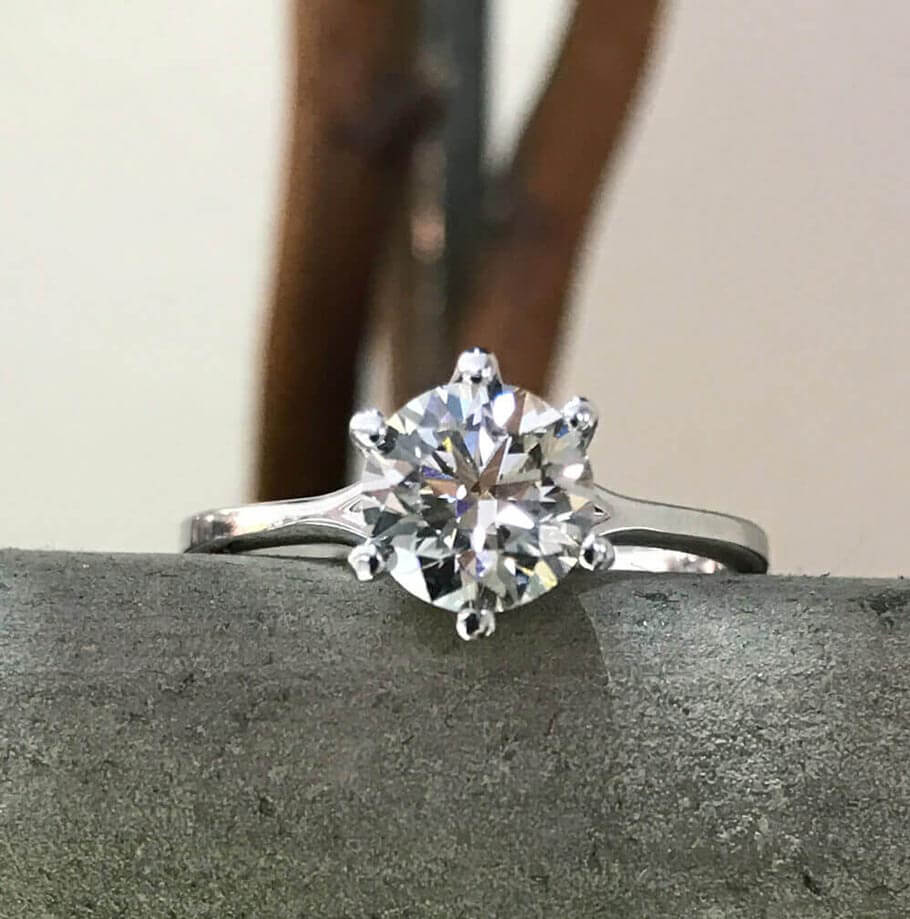 Is there a warranty on the ring? A jeweler should stand behind their product and have a manufacturers warranty or reasonable long term plan. Keep in mind this is a product that will be worn most likely every day and its going to get dinged up a bit, so why not have piece of mind and get covered. Good news at Pompeii3 we include a 180 day warranty with all of our items since we are the manufacturer you dont have to worry about another company sending your special ring to a "service center". You can send it directly to us, the manufacturer, and we will properly service or replace your ring. We also offer an extended care plan which you can renew every 5 years for $65. You can view more about our warranty here; https://www.pompeii3.com/warranty/
What methods of payment are available? The may seem like a basic question, but its actually pretty important before choosing your ring. It may affect the price point and selection you consider. Pompeii3 offers 0% interest financing for 3 month and interest bearing over 3 months. You can learn more about this option here; https://www.pompeii3.com/financing/. We also accept all major credit cards, some may prefer to make monthly payments on this if its easier since they already have the credit. Paypal is also a great way to pay and offers buyer protection. However you decide you pay know that an engagement ring is an investment and its never too early to start socking money away from the #bigday.
Happy Engagement Ring Shopping!