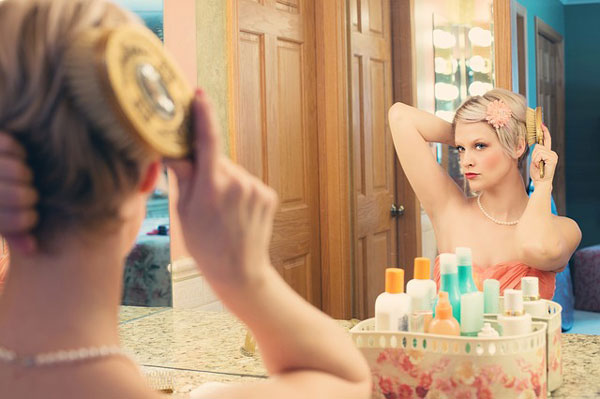 Although some individuals naturally love to wear jewelry, others are more intimidated by adding pieces to their wardrobe. It's not that they don't like jewelry, it's simply that they don't know what styles and pieces would work best to match their unique tastes.
This confusion can make things even more complicated when you add the possibility of a fine-quality diamond engagement ring to the mix. If you're already not comfortable wearing fine fashion jewelry, the thought of learning how to wear multiple diamond rings may add to your anxiety as much as it excites you.
Pompeii3, the best online jewelry store, understands your concerns. We can help you learn how to layer jewelry and teach you easy ways to add engagement rings and other fine jewelry pieces to your current accessories. Read our top three go-to tips, curated by the experts at Pompeii3.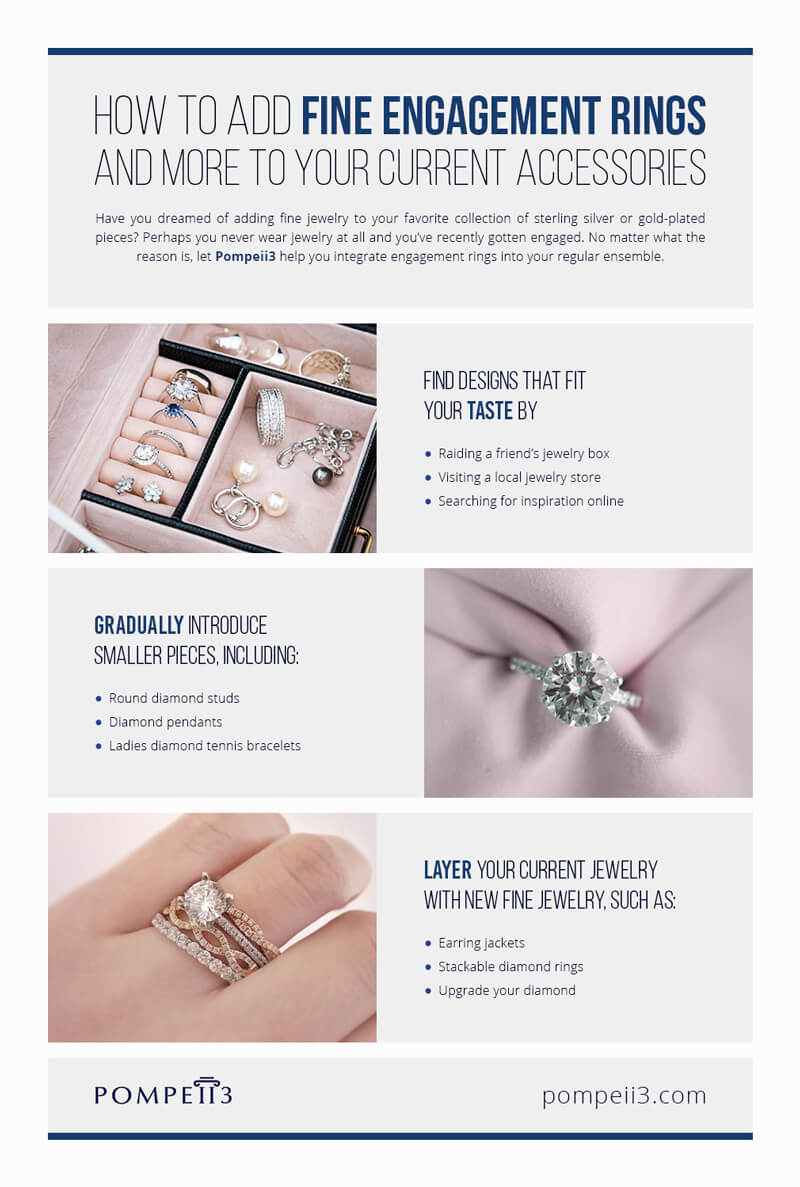 1) Find Designs that Fit Your Tastes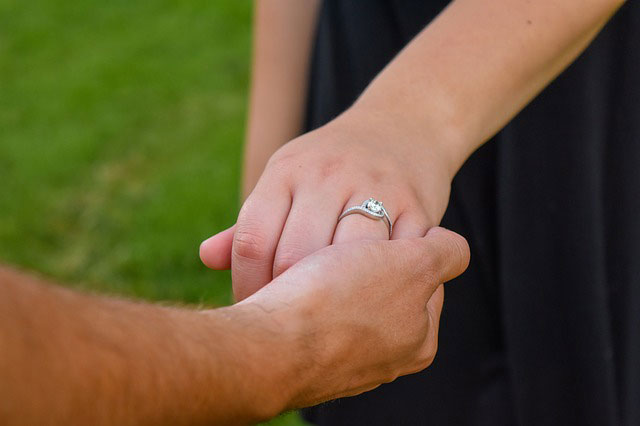 How do you know what foods you like and dislike? You try a wide variety of foods and your palate will make it clear which you prefer. It's very similar when it comes to jewelry. How could you possibly know which types of styles you prefer if you don't try them on?
Jewelry comes in a multitude of designs, from ostentatious to subtle and everything in between. Learning how to layer jewelry includes becoming familiar with the various styles, like vintage, heirloom, art deco, or halo. The only way to know what you prefer is to view a wide variety of pieces. You can discover how to wear multiple diamond rings in several different ways:
Raid a friend's jewelry box: If you have a close friend, ask to see some of their favorite pieces. This is a simple and no-pressure way of getting to look at different pieces without having a salesman breathing down your neck.
Visit a local jewelry store: By viewing pieces up close and putting some of them on, you'll not only learn how to layer jewelry but also find what bracelets, necklaces, and what type of rings you prefer. Of course, don't make your final purchases at the jewelry store, because you'll typically find similar pieces at a better price point when you buy diamond jewelry at Pompeii3!
Search for jewelry online: Spend some time flipping through Pinterest or Instagram for inspiration. Of course, we'd suggest you also check out the curated selections we carry here at Pompeii3. After all, what could possibly beat viewing hundreds of different pieces, all from the comfort of your couch?
2) Introduce Pieces to Your Wardrobe Gradually
Before you tackle how to layer jewelry and slip on an engagement ring from your soon-to-be significant other, slowly integrate different pieces into your wardrobe. By doing this, you won't feel as self-conscious when your SO puts the ring on your finger. Learn how to wear multiple diamond rings and other items by starting with some of these beautiful, yet understated pieces:
Round diamond studs: You'll love the versatility of diamond stud earrings. They're a perfect choice for both casual or formal occasions. Also, since they come in a variety of carat weights, you're guaranteed to find the size of fine diamond earrings that are perfect for you. Start with a solid pair of studs on your how-to-layer-jewelry journey.
Diamond pendants: Pendants come in a dizzying number of styles and choices, ensuring that you'll find a piece that's just right for you. You can wear pendants either above or below your neckline, which is another helpful option if you're slowly integrating fine jewelry into your wardrobe.
Ladies diamond tennis bracelets:We understand that many tennis bracelets don't fit into the category of "understated!" Yet a tennis bracelet is a great starting-off point for new jewelry wearers, especially if you're used to wearing a watch. Looking for something with a little less bling? Consider a gemstone tennis bracelet instead.
3) Layer Your Current Jewelry With New Fine Jewelry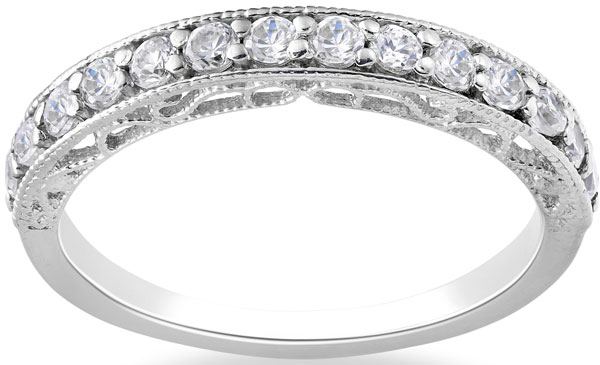 1/2ct Vintage Diamond Wedding Ring 14K White Gold (G/H, I1)($329.99)
Our final tip in learning how to layer jewelry is to start with what you've already got. Perhaps you're already wearing a beautiful set of diamond studs or an engagement ring, but you're looking for something to complement your current ensemble of jewelry. There are several unique ways to discover how to wear multiple diamond rings and spice up the jewelry you already own:
Earring Jackets: How do you make diamond or gemstone studs even more amazing? By surrounding them with a halo of diamonds! You can add an earring jacket to any stud earring and essentially create a brand new piece.
Stackable Diamond Rings: Why not experience how to layer jewelry by adding a stackable diamond wedding ring or guard enhancer to your engagement ring to create your own unique set? At Pompeii3, you'll find plenty of stackable wedding rings that will perfectly complement any engagement diamond cut and shape.
Upgrade Your Diamond:If you're looking to upgrade your diamond solitaire for your wedding, anniversary, or another special occasion, consider switching your diamond out for a new one. You can choose a diamond with a larger size, improved clarity or color, or even select a mesmerizing colored diamond. The choices are endless!
Choose Fine Jewelry From Pompeii3
No matter how you layer your jewelry, don't forget to make your purchase from Pompeii3. Our quality is unparalleled, and our prices can't be beat. How can we offer such amazing pieces at value prices? By selling exclusively online! We've cut out the middle-man, which makes fine jewelry both affordable and accessible to all.
Learn how to wear multiple diamond rings from us. At Pompeii3, we've been selling high-quality, jaw-dropping pieces for over 50 years. We craft all our jewelry here in the USA, and all our diamonds are certified conflict-free. Simply put, we always put our customers first, and you'll appreciate our attention to detail before and after your purchase.
Have questions about how to layer jewelry? Contact us today so we can help!