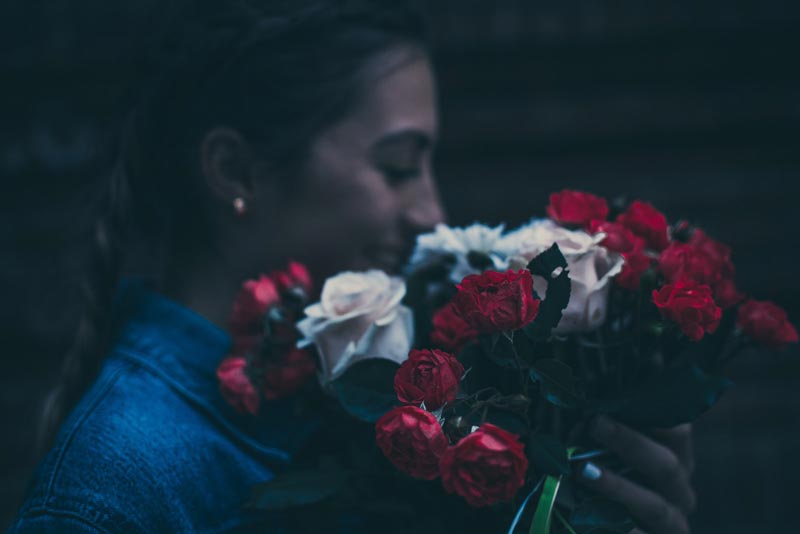 You want a Valentine's Day gift that's thoughtful, meaningful, tasteful...all while staying within budget. Not necessarily an easy task. We at Pompeii3 are here for you!
This Valentine's Day, let us suggest a beautiful option for gift-giving: pink stone jewelry. It's eye-catching, unique, and she'll want to wear it every single day!
Several different stones come in various shades of pink, so you may not be aware of all the options that are available to you when you're considering pink gemstone jewelry. Let us walk you through some of your options to help make your decision easier.
Pretty In Pink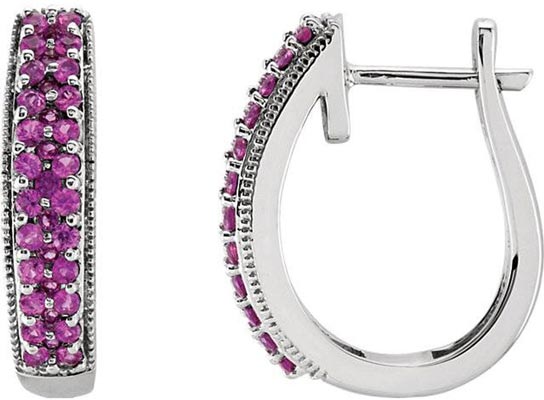 7/8ct Genuine Pink Sapphire Pave Hoops 14K in White Gold ($659.99)
No matter what her taste and your budget are, we have handcrafted pieces that will really show her how much you love her this Valentine's Day.
Pink Sapphire Jewelry: When most people think of sapphire, their mind is immediately drawn to deep blue sapphires. Although there's no doubt blue sapphires are some of the most beautiful gemstones you can find, don't miss the opportunity to check out the various hues of pink sapphires offered Pompeii3. Shades range from lighter pinks to darker purple-pink varieties.
Morganite: Part of the beryl family, morganite jewelry has become a hot trend over the past few years. Sometimes called "pink beryl" or "rose beryl," morganite engagement rings, earrings, and necklaces are at the top of many women's lists. If you're looking for pink stone jewelry, morganite needs to be near the top of your list too.
Pink Topaz Jewelry: Topaz is one of the most popular of the semi-precious stones. They're heralded for their wide palate of colors. Many regard the pink version of topaz as the most sought-after stone in the topaz family. It's vibrant pink color always makes a statement, and its lower price point makes it a bit more accessible.
Pink Diamonds: Of course, white diamonds are far and away the most popular diamond. However, stunning pink diamonds are an exquisite choice for those who are looking to give the gift of diamonds—with a twist. In fact, we have an entire line of colorful diamonds from white to black to everything in between!
Perfect Pink Stone Pieces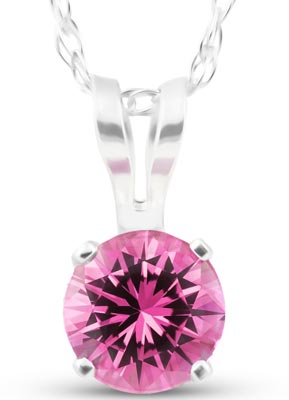 Solitaire 1/2 ct Pink Sapphire Pendant 14k White Gold Women's 18" Necklace ($197.99)
So, you're convinced that pink stone jewelry is a timely choice for Valentine's Day, but with so many amazing pieces, you may still be unsure how to choose.
Of course, there's no perfect answer to that question, but we have put together some ideas to help you as you make your selection.
Are you in a new relationship? You're looking for something that's meaningful, but that's not too serious. Perhaps a set of pink stone earrings would fit the bill? You can find beautiful sets of earrings at lower price points, which are typically more appropriate for newer relationships. Pink studs are a stunning choice, or you can try something more whimsical by choosing hoops or dangles instead.
Are you in a committed relationship? If you've been together for a while, the bar may be set slightly higher than it had been for a previous Valentine's Day. In this case, consider a fine fashion ring with one of the pink stones mentioned above. These pieces, sometimes called "right hand rings," are different from engagement and wedding rings. They're fashion rings that, in this case, will feature pink stones as the main attraction of the piece.
What if she's not a "jewelry person?" Here at Pompeii3, we are often asked about the best type of jewelry to purchase for a woman who doesn't typically wear accessories. Often times, we recommend pink gemstone pendants. We've found that pendants often are a great piece of pink gemstone jewelry for women who don't normally accessorize because it can be worn either so it's easily visible or it can be tucked out of sight.
What if we're thinking about getting engaged? With cupid already hard at work and romance in the air, you couldn't pick a better time to pop the question than Valentine's Day! If you're looking for a breathtaking, non-traditional take on engagement jewelry, a pink diamond engagement ring will fit the bill. You could even pair a pink diamond with a rose gold setting for a vintage-inspired piece.
What if we're already married? Why not remind her that you'd say "I do" all over again? Purchasing a pink stone jewelry wedding ring or anniversary band is a wonderful way to mark the longevity of your relationship. For a ring that's rich with symbolism, choose a pink stone eternity band to show the everlasting nature of your love together.
What if I'm on a tight budget? Just because you want to stick to your budget doesn't mean you have to sacrifice quality. At Pompeii3, we have choices that fit everyone's wallet. For instance, we have a large selection of jewelry (including pink stone jewelry) under $300. Also, don't forget that we have in-house financing available for qualified buyers, with zero interest plans available in certain situations.
Pink Gemstone Jewelry From Pompeii3
Valentine's Day isn't official until you've given a gift from Pompeii3! We have scores of choices to make February 14th a special day. Peruse our online catalog, and we guarantee you'll find the right gift.
When you purchase from Pompeii3, don't forget that you'll also receive our world-class customer service. We include complimentary free insured shipping with every order. We also offer a free 30-day money-back guarantee and 180-day warranty for your complete peace of mind.
This Valentine's Day, choose pink stone jewelry from Pompeii3. Contact us directly if we can help you make your selection.