Posted by Pompeii3 on Feb 20, 2019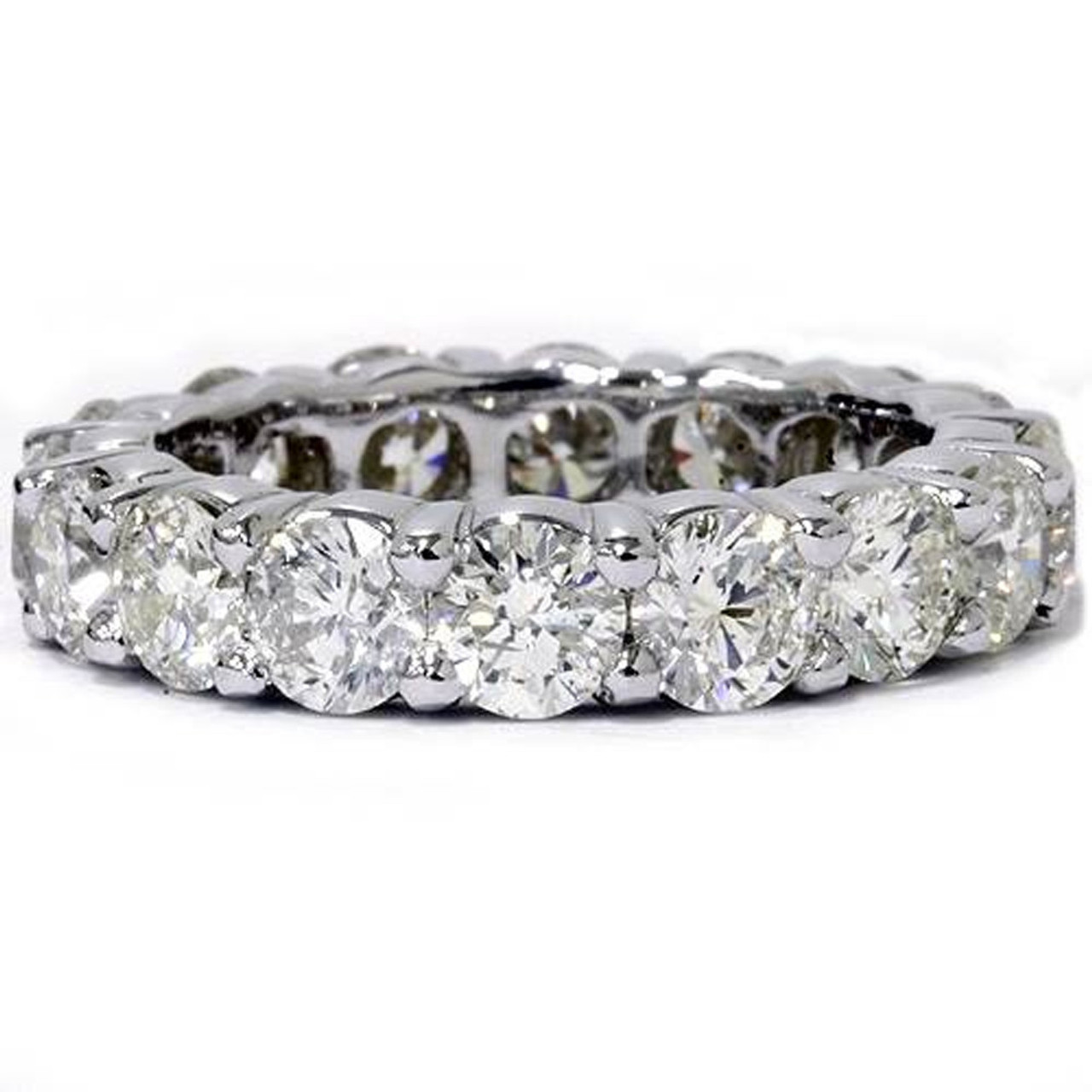 If you've recently gotten engaged, congratulations! Your engagement will be a wonderful season of life. But, if we're honest, there are also a great deal of stress that can happen during the engagement period as well. There's so many decisions that have to be made. Where will you hold the wedding? Who will cater the reception? Will your Uncle Bill end up on the guest list or not? There's a lot to consider!
Two of the early decisions you'll need to make in the engagement period are about your engagement ring photos and how to announce your engagement. As social media becomes a greater part of our lives, these wedding items have become more elaborate. In fact, it's almost become a game for each couple to try to top the other announcements they've seen. This can cause a great amount of undue stress on a couple who should instead be filled with joy and excitement.
Pompeii3, the industry leader in online, high-quality bridal jewelry, wants to help you eliminate some of the pressure you may be feeling right now. We've had nearly 100 years of experience in helping customers create the perfect wedding, and we want to help you consider some of the best, low-stress ways of how to announce your engagement.
Be Yourself
The first thing you need to remember when considering ring photos and announcements is to simply be yourself. Don't let societal and peer pressure force you to do something that you don't want to do. If you're a couple who likes being low-key, that's okay! If you want to make the announcement to a small circle of friends and family first, that's fine! If you're looking for something simplistic, don't worry! However you make your announcement, it should be a reflection of who you are as a couple.
Taking Tasteful Engagement Ring Photos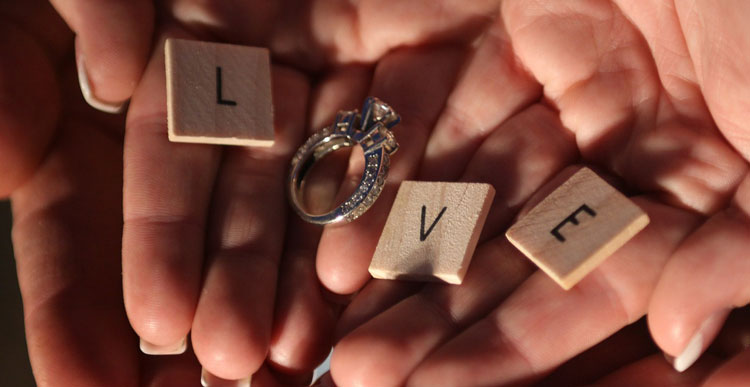 Now it's time to take some pictures of that handmade diamond engagement ring! These images are what you'll likely use with your announcements, so you'll need to keep that in mind when you're making your plans. Here's how you'll need to prepare for your engagement ring photos:
Find a pose: You'll want to consider how you can best showcase three different things: the two of you and the ring. This can be done with a simple shot of both of you with a hand showcasing the ring on your finger. You can also take a more elaborate photo, staging the ring with other props (like some of the other photos you'll find with this post). For a bit of inspiration, consider visiting a site like Pinterest and search for "engagement ring photos." Prepare to be overwhelmed because there are thousands to view! However, don't concentrate on trying to copy another couple's pose. Use it as a tool to give you inspiration for your own YOUnique idea.
Consider a photographer: It's not necessary that you hire a photographer to take your engagement photos. You can take high-quality pictures using your cell phone that can do reasonably well. However, there are two reasons you may want to hire a photographer. First, the experience of having ring images taken is a once-in-a-lifetime opportunity. Second, when you hire a photographer, you're not just renting their camera for an hour. You're also availing yourself to their experience as well. They'll have several great ideas of how to set up perfect engagement ring photos. Make use of their expertise, especially if you're having difficulty finding the perfect pose.
How to Announce Your Engagement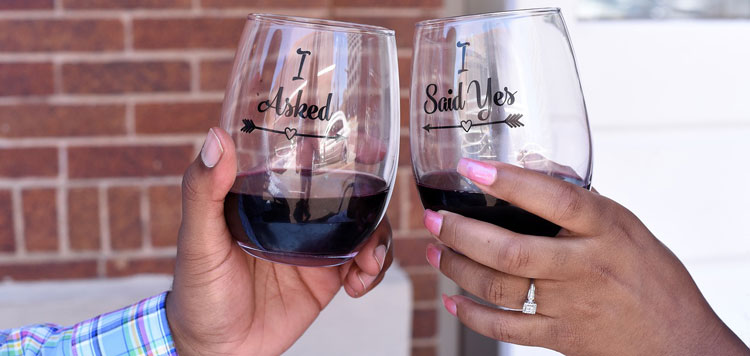 So, you've got your engagement ring pics in hand. Now, it's time to decide how you'll announce it to the world. There are several different means that you can choose from:
Go old-school: On its own, sending out paper announcements through the mail isn't very unique. In fact, it's the epitome of tradition in many ways. However, paper announcements are still a fantastic idea because they give friends and family something they can hold on to and save. Take your new engagement ring photos and load them up to a printing service like Shutterfly or Snapfish. You'll find that they have thousands of unique ideas for engagement and "save the date" paper announcements.
Use social media: Although we've explored some of the potential difficulties with using social media for announcing an engagement, we can't deny that there's a lot of great reasons to use Facebook, Instagram, or other sites to make your announcements. Declaring your engagement online means you can reach a large amount of people very quickly without having to spend a penny. If you want to create a fantastic announcement using your freshly-taken photos, consider visiting Canva.You can easily upload your pictures into easy-to-edit templates that are the perfect dimensions for social media. So simple!
Look for a public venue: You could always find an excuse to get your family and friends together. Go out for dinner, put together a party or a picnic, or have a movie night. Find the right opportunity to announce your engagement to the crowd. Although this kind of announcement can be more work than the others, you'll also be able to enjoy the love and well-wishes of the people who care about you both the most, making this an attractive option.
Pompeii3: Making Couples Happy for Generations
Now, that your engagement is in full-swing, Pompeii3 wants to continue to help you ensure that your upcoming nuptials are the most amazing day of your life. Whether you're looking for stunning his and hers bridal sets, bridesmaids gifts, or even a little something blue, we have exactly what you need...and we'll help you save on your budget too!
Need more help? Don't hesitate to contact us today. We'll be glad to help you find unique jewelry at prices that will amaze you.