Posted by Pompeii3 on Mar 13, 2019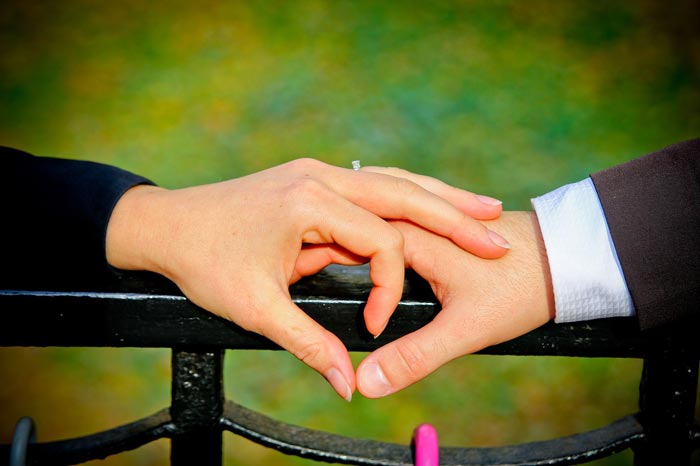 When it comes to choosing a diamond engagement ring for the woman of your dreams, you don't want to compromise. You want to find the highest-quality ring that matches her tastes, personality, and sensibilities.
As you're looking at rings, you're probably concentrating most on the aesthetics of each-- that is, how it will look on her finger. But, have you ever considered that different rings also convey different messages? Simple solitaire engagement rings carry a historical significance and meaning that's more complex than you may first think. The two-stone engagement ring announces that your partnership is one that will last forever. Three-stone solitaire engagement rings also convey a message about your upcoming union.
Getting a better understanding of the symbolism of each ring may help you narrow your search for the perfect one. Pompeii3 carries each of these styles in abundance, and we're always keeping tabs on the most current trends of what women want in their jewelry. We're happy to help you learn more about each of these three popular styles of engagement ring.
Simple Solitaire Engagement Rings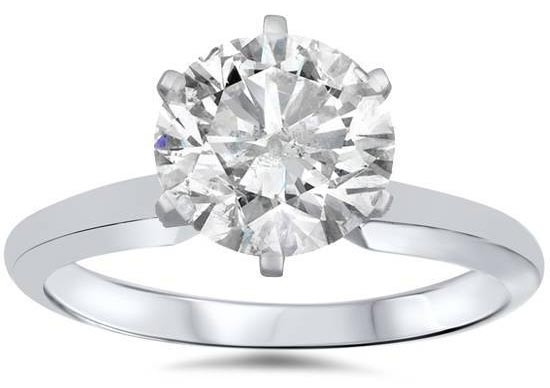 The solitaire may be simple in form, but it's also stunning in its execution. A beautiful diamond carefully set on a lustrous band immediately makes a statement. But, what's the meaning behind that statement?
Simple solitaire diamond engagement rings are the most classic of all bridal jewelry designs. Their origins trace back to the Roman empire, where bands of gold had a singular uncut diamond set directly into the metal. Although these solitaire rings don't resemble the modern look of today, its design was still stunning at the time. Eventually, diamond cutting techniques improved and diamonds were shaped to draw the most scintillation and fire out of each stone.
In the late 1800s, solitaire rings took a more modern approach as faceted diamonds were placed in a six prong setting and raised high above the band. The Tiffany setting" was an immediate success, and the now-famous Tiffany and Co. had a hit on their hands. Over time, this became the "go to" style for solitaires, since the high prong setting allowed the diamonds to truly shine as they were intended to.
Today, the four prong solitaire engagement ring has replaced the six prong version as the most popular choice for couples, although both styles have their ardent fans. The single, solitary diamond represents the singular love that you have for each other. If you're choosing a high-quality diamond that rates highly in the 4 C's, you'll find that simple solitaire engagement rings are the perfect choice to showcase your exquisite stone.
Two-Stone Engagement Rings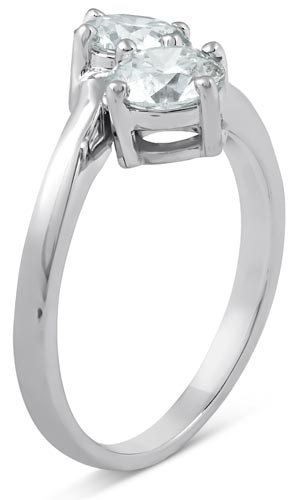 Two-stone engagement options are often called " Forever Us" diamond rings. This is because of what the two stones represent. To some couples, the two diamonds set in one band represent the fact that each individual, when they come together in marriage, becomes one. For others, the two stones signify the two most important elements of marriage: love and friendship. No matter which way you look at it, they both represent the fact that you have a love and passion that will last forever.
Although some people believe the "Forever Us" diamond engagement ring is a new fad in the jewelry world, the message it represents is actually one of the more traditional than people realize. History tells us that another popular type of ring in Roman times was a simple metal band with an engraving of two hands shaking, showing the intertwining of two lives through marriage. Gimmel rings were popular in the Middle Ages, which were two interlocking rings with a stone set in each ring. The most famous two-stone engagement ring in history may have been from Napoleon Bonaparte to his love Josephine. This ring featured a sapphire and a diamond set together on a band.
Three-Stone Solitaire Engagement Rings
One of the newest engagement jewelry styles to hit the scene are three-stone engagement ring settings. "New" is relative, however, since this style has been around since the Victorian area. But, compared to the other styles like the simple solitaire engagement ring created during the Roman empire, three-stone solitaire engagement rings are the most recent to the engagement party!
Some people consider the symbolism of the three-stone engagement ring to be the deepest and most meaningful of all. The three stones represent the past, present, and future of your love together. Sometimes, the middle stone is slightly larger than the two stones flanking it on either side, which is a reminder that living in the present is the most important. Another interpretation of the three-stone ring is that the diamonds represent love, friendship, and fidelity with one another. However you care to look at it, the three-stone ring is a stunning style with a significant meaning.
Pompeii3 has The Ring She'll Love
Maybe you've been dreading taking a trip to the mall and being hassled by jewelry store salespeople, but you don't know how else to buy an engagement ring. We'd love to invite you to check out the incredible selection of jewelry we offer here at Pompeii3. Each engagement ring we sell features conflict-free diamonds that have been ethically sourced. We offer some of the most stunning diamonds and settings you'll find anywhere. We guarantee it!
Best of all, when you purchase from Pompeii3, you're not only getting exceptional jewelry, you're also receiving an outstanding value. Because we craft and sell our own pieces, we've effectively cut out the middleman at your local mall jewelry store. With Pompeii3, you get the highest-quality jewelry at an exceptional value, all while shopping from the comfort of your own home. It doesn't get any better than that.
Whether you end up purchasing a simple solitaire engagement rings, or one of the many other options available to you, make sure you make your selection from Pompeii3!