Posted by Pompeii3 on Jul 26, 2018
For Something Special, Create Your Own Engagement Ring
For many couples, choosing a standard engagement ring from a jewelry store or online is the way to go. Some people feel a level of comfort from being able to look through dozens of different types of rings over a short period of time.
For those looking for something more unique, this is not an option. Instead, being able to create your own engagement ring is the way to go. Although you won't get the instant gratification of seeing the ring on your finger the minute you spot it in the case, you'll have a lifetime of happiness knowing that your ring was created especially with your unique tastes in mind. Best of all, you'll be the only person in the world with that design!
The process can seem overwhelming, especially if you are not sure of your own personal style and taste in jewelry. However, you can remove much of the pressure when you design your own engagement ring from scratch online. The process is much simpler than you think, and the result will be something that uniquely reflects who you are. Here's a few things to consider when learning how to design your own engagement ring.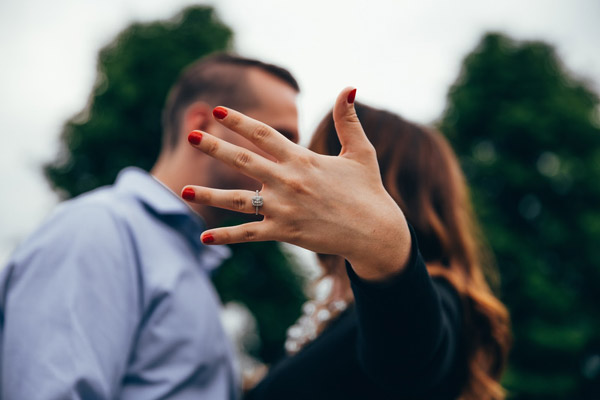 1. Start with the gemstones
Most engagement rings begin and end with the stone. Whether it's a simple diamond solitaire, a three stone ring, or something more ornate, diamonds are usually the only gemstones invited to the party. However, when you create your own engagement ring, your options are only limited by your imagination.
Consider using colored gemstones as accents to your center diamond. For a more bold look, consider using your birthstone as the centerpiece of your ring instead of a diamond (unless you were born in April, of course!). You can choose colored gemstones based on the significance of the color, or simply because you love how it looks on your finger. The choices are endless.
If you are wanting diamonds for your engagement ring, but are looking for more options, consider lab grown diamond rings. They are composed of the same exact materials as natural diamonds, and they have the same properties and characteristics. Lab grown diamonds can represent a significant savings over their traditional counterparts, so check out all of your options as you consider which direction you'd like go.
2. Choose your metal
When you design your own engagement ring from scratch online, you'll also need to consider the type of precious metal from which you'd like the ring to be made. There are many choices available for you, each with their own positives and negatives.
If you are wanting to create your own engagement ring with a lighter metal, consider white gold or platinum. Platinum is naturally light colored and is very durable, but also is quite pricey. White gold can be a more economical option, but will need to be rhodium plated every few years to maintain its ice-cold appearance.
Gold comes in different weights, whether you choose yellow, white, or rose. Ten, 14, and 18 karat are the most popular available on the market. The higher the karat weight, the more pure the gold is. Of course, higher purity also means a higher price. As you create your own engagement ring, consult with your designer to decide what choice works best for you.
3. Sketch it out
The first two steps are easier, as you may already have these decisions made up in your mind. When considering how to design your own engagement ring, however, this may be the most intimidating, yet most vital step. Whatever vision you have in your mind for your ring, this must be conveyed accurately to the designer of your ring.
How do you make that happen? You can attempt to explain verbally, but pictures are always better. Don't worry! You don't have to be an expert artist to create your own engagement ring. Sketch out whatever ideas you have. As you do, you can search online for similar styles to assist with your drawing. You can also print out pictures of other rings, but remember you're not simply copying someone else's ring. This design should be uniquely yours.
Pompeii3 will be glad to show you how to design your own engagement ring. We've been in business for nearly a century helping people create their own rings. Our artisans won't rest until you are satisfied with your design. We specialize in helping you design your own engagement ring from scratch online.
4. Collaboration is key
Now, even though you've provided the designer material to work from, you'll need to ensure that their creation matches how you see the ring in your mind's eye. Once you provide your designer with your sketches and pictures, in time they'll provide you with a custom rendering of your ring and a price quote.
Go over each of these carefully, ensuring that you are comfortable with what you've received. Does the ring match what you had envisioned? Remember that your designer is your collaborator. They want you to be happy with your ring for a lifetime. Feel free to submit any changes or redesigns. Once the ring is cast, it's too late for modifications beyond refittings.
Most importantly, you'll want to work with a company that will be as passionate about engagement rings as you are. When you're looking to create your own engagement ring, you can be sure that Pompeii3 has the perfect combination of expertise, quality, and value that you're looking for. Let us help you design a ring that will be uniquely yours.