Posted by Pompeii3 on Mar 13, 2019
Spring is finally in the air! The birds are starting to sing. Flowers and trees are beginning to show signs of life. Best of all, depending on where you live, snow is finally beginning to melt!
Spring represents a season of new life and new beginnings. With that in mind, this may be the perfect time to pull off that long-overdue proposal to the woman you love. There are just two problems: what's the best way to propose in the spring, and where are you going to find a ring?
Thankfully, at Pompeii3, we have the best diamond engagement rings you can find. Every single one of our stones is ethically-sourced and conflict-free. We have a large selection of natural and lab created diamonds, giving you a multitude of options. In fact, we have so many options, we may have to help you narrow it down!
Allow your friends at Pompeii3 to show you some of our available pieces, as well as share some great spring proposal ideas.
Finding the Perfect Engagement Ring
When you start looking for the best diamond engagement rings, the hunt can be overwhelming. This is especially true if you don't know what style of ring she'd prefer. You want to avoid making the mistake of choosing a ring she doesn't like. After all, you want her to have this ring forever!
If you need some help finding the perfect engagement ring, consider some of these ideas:
Take note of the jewelry she wears: Although she doesn't wear an engagement ring, she likely wears other pieces of jewelry. You may find that you can discern some of her style preferences by looking closely at the type of jewelry she likes to wear.
Go to a jewelry store: Wait, hear us out on this one! You don't want to go to the jewelry counter and simply ask her what ring she wants. However, a nonchalant trip through the jewelry store while you're at the mall can be a good way to learn about the tastes of your potential fiancée. Don't look at the engagement rings; instead look at the other pieces like necklaces, earrings, and diamond fashion rings. Note the styles that she prefers. Does she like a more classic look? Something more vintage, perhaps? Does she lean toward white or yellow gold? Your trip may help you discover the best diamond engagement rings for her style.
Ask a friend: You'll want to be careful about this, because it's possible a friend could end up sharing your secret. However, if you're truly stumped about what to do, a trusted companion who can keep your plans in the strictest of confidence may give some illumination about what style she'd prefer.
Exquisite Engagement Ring Options
No matter direction you end up in your quest for the best diamond engagement rings, Pompeii3 has exactly what you're looking for. Here are some styles that deserve a look: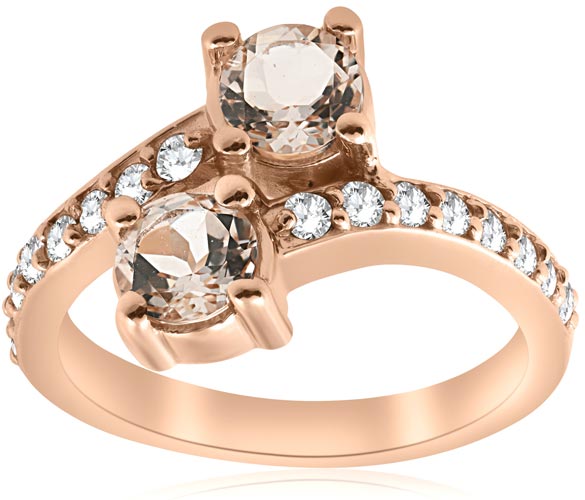 Still not sure what to do? Consider Pompeii3's custom ring design. If you can dream it, we can design it!
Spring Proposal Ideas
At Pompeii3, we're jewelry people. But, we're also romantics at heart! We recently asked for unique proposal ideas that are unique to the spring season, and these are some of the ideas we received:
Take a trip: If you live in a colder climate and spring hasn't sprung yet, consider making a special trip to a warmer climate. No doubt, proposing on a special spring fling will be a memory that will last a lifetime.
Baseball game: What says spring like baseball? If she's a baseball fanatic, this may be the perfect choice. If you have a local minor league team nearby, you'll likely find them willing to help you craft a perfect plan.
Take a hike: With spring beginning to bloom, you'll find that a hike can be a picturesque way to propose. This also works perfectly if you're looking for a private, intimate moment alone.
Go to a garden: If your city or town has a botanical garden, it could be a fantastic place to drop to one knee and pop the question. An added bonus: any pictures you take will be even more beautiful because of the stunning spring backdrop.
Pompeii3 will Help You Spring Into Action
In your pursuit of the best diamond engagement rings, look no further than Pompeii3. We've been selling high-quality, value-priced jewelry for over 50 years. We're confident that we have exactly what you're looking for. In fact, we're so confident that we offer a 30-day money back guarantee and a 180-day warranty with each piece of jewelry we sell.
No matter what ring you choose or how you end up proposing, make sure that Pompeii3 is part of your upcoming springtime engagement!