Congratulations! You're thinking about diamond engagement rings! This is an exciting time in your life, and you deserve to savor every last moment. With so much going on right now that can cause you to stress, you shouldn't have to be anxious about finding the perfect engagement ring.
When couples contact us at Pompeii3, they often ask us how to choose an engagement ring. Our answer is almost always the same: choose a wedding ring and engagement ring set. Bridal ring sets are a fantastic way to get perfectly matched engagement and wedding rings. Once you look at our selection of bridal set wedding rings, we think you'll agree!
Here's a foolproof checklist to keep in mind when you're considering how to choose a wedding ring and engagement ring.
The Right Fit
Our first suggestion with how to choose an engagement ring may seem to be common sense, but it's one that we find is often overlooked in the ring buying process. Make sure you size your ring finger (the finger next to your pinky finger) on your left hand. You can do this a couple of different ways:
Get your ring finger sized at a local jewelry store. You can do this within just a matter of minutes.

Size your ring in the comfort of your home. Pompeii3 has made it easy for you to size your finger without having to leave your home. Simply utilize our convenient

ring sizer

and

sizing chart

.
At Pompeii3, we offer most of our rings between sizes 4 and 10, so we're sure to have your ideal fit available. The first time you slip your wedding ring and engagement ring set onto your finger, it will be a perfect fit!
What's Your Preferred Stone?

1CT Diamond Engagement Ring Cushion Halo Wedding Ring Set 14K White Gold (H-I, I1) - ($1,429.99)
For those wondering how to choose an engagement ring bridal set, this may seem to be the easiest question to answer: diamonds! However, there are more options available than you may realize. For instance, you can choose from stones such as:
Traditional white diamonds

Champagne diamonds
The choices are nearly as limitless as your imagination. In fact, if we don't have the stone you're looking for in a bridal set, we can help you design an engagement ring online! You can create your own unique bridal set with the assistance of one of our master artisans. They'll be able to incorporate any precious or semi-precious gemstone you wish into your custom-designed bridal set.
Your Center Stone Shape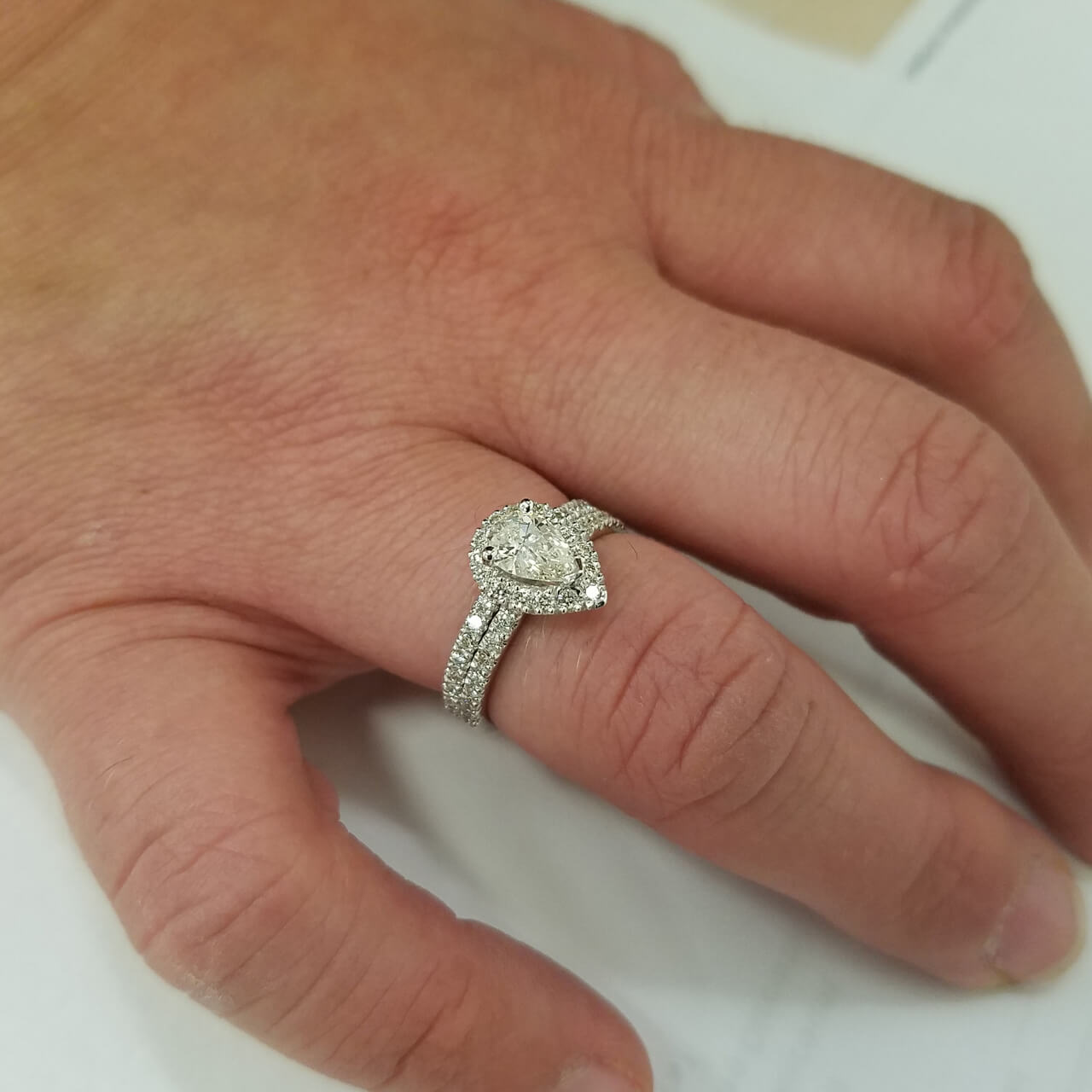 1 1/10ct Pear Shape Halo Diamond Engagement Wedding Ring Set 14k White Gold ((G-H), SI(2)-I(1)) - ($1,429.99)
Typically, at the center of each engagement ring is a large stone that is the focal point of the piece. These center stones come in all types of intriguing shapes, including:
Round brilliant

Princess cut

Marquise cut

Pear shape

Emerald cut

Heart shaped

Trillion cut
Each cut brings out the unique characteristics of the stone in its own particular way. How do you pick a diamond ring center stone shape? There's no right answer for how to choose an engagement ring — choose a shape that fits your sense of style!
Your Preferred Metal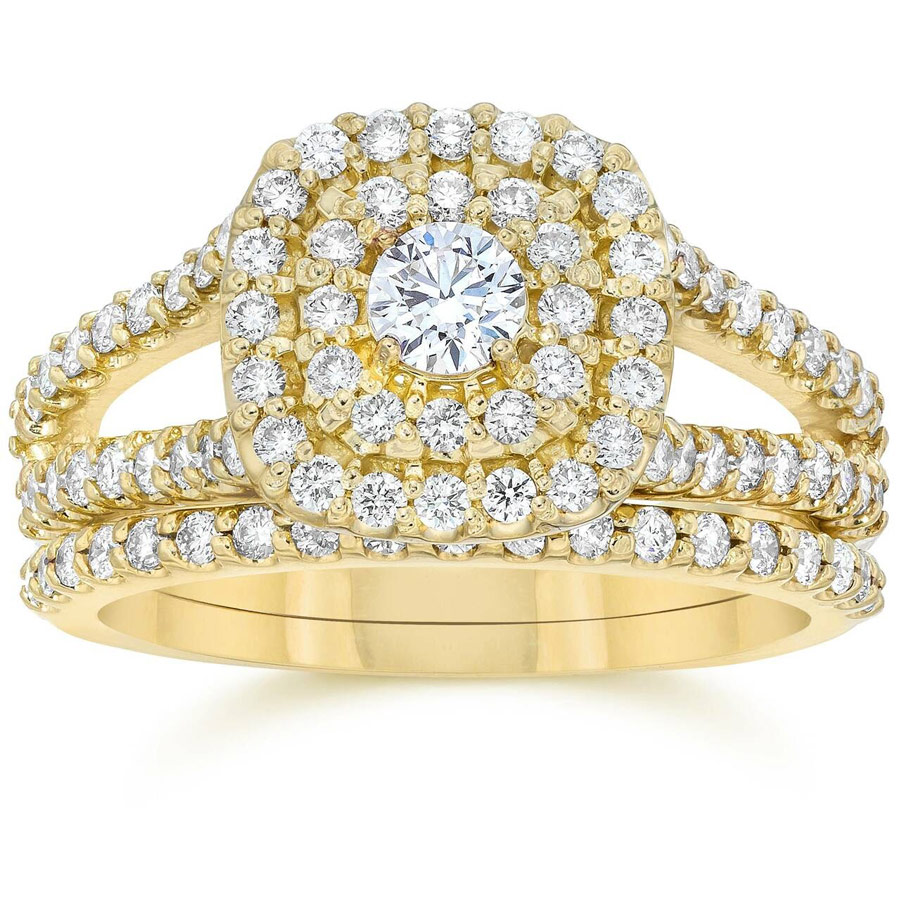 1 1/10CT Cushion Halo Diamond Engagement Wedding Ring Set 10K Yellow Gold (H/I, I1-I2) - ($659.99)

As you're likely now realizing, there are a tremendous amount of options when selecting engagement rings and wedding rings together as a set. This holds true for metals as well. Traditionally, most choose between white and yellow gold. Yet, there are so many more choices available to you that you may not realize. Pompeii3 offers bridal sets in these breathtaking metals:
10k Rose Gold

10k White Gold

10k Yellow Gold

14k Rose Gold

14k White Gold

14k Yellow Gold

Platinum
You'll likely find that different metals complement your skin tone better than others. Also, some gemstones also "pop" more when paired with particular hues of metal. Again, for those who are wondering how to pick a diamond ring metal, the choice is intimately personal. There's no right or wrong answer!
Your Bridal Set Style

Emery 3/4Ct Vintage Diamond Engagement Wedding Ring Set 14K White Gold (H/I, I1) - ($1,099.99)

Not all bridal sets are created equal! Just like clothing can be easily identified by certain styles, the same can be said for bridal jewelry. Have you considered what your favorite style of jewelry is? Take a look at some of these popular categories and see which types you can't live without!
How To Choose An Engagement Ring? Choose Pompeii3!
For couples who are wondering how to choose a wedding ring and engagement ring, there's one thing that should be clear by now...buy your bridal set from Pompeii3! We have an industry-leading team of suppliers, designers, and customer service experts who won't rest until you have the perfect bridal set on your finger.
We've been making our customers happy for over 100 years with our award-winning combination of fine jewelry and excellent customer service. Before, during, and after the sale, we treat you like part of our family. It's the Pompeii3 difference.
Still have questions about how to choose an engagement ring set? Contact us today so we can help!