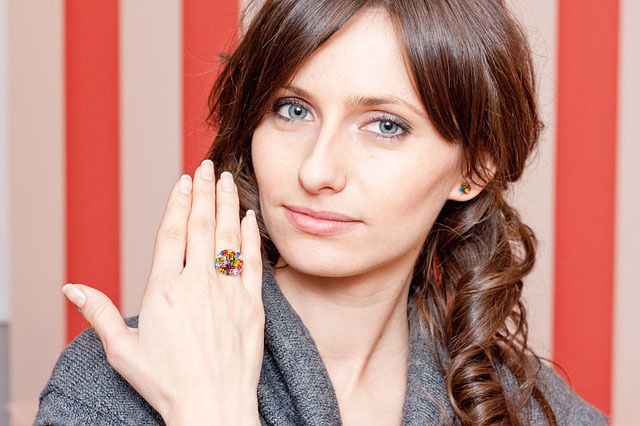 As designers and craftsmen of fine jewelry for over a century, we understand that, sometimes, a standard piece of jewelry isn't quite enough. Every diamond gift tells its own story, and the best way to tell yours is with a personalized jewelry gift for her. To those who aren't familiar with custom jewelry gifts, the process may seem too mysterious or difficult. That's why we've taken the guesswork out of the task by creating a gift-giving guide just in time for the holiday season. Here are some ideas for gifts you should place under the tree this year:
Custom Engagement Rings
For some, the pinnacle of personalized jewelry gift for her is a custom diamond ring. These one-of-a-kind designs are created especially for your beloved, using your input and design ideas. Whether you're looking for something classic, whimsical, or bold, we can help you create the engagement ring of their dreams.
If you're looking to pop the question under some mistletoe this year, why not design a custom engagement ring? We'll walk you through the entire process, from initial design to choosing your engagement ring metal and selecting your diamonds or other gemstones. Your final custom engagement ring is sure to be a personalized jewelry gift for her, unlike anything your special someone has ever witnessed before!
Stackable Rings

1/4 Ct Diamond Wedding Ring 10k White Gold (G/H, I1-I2)- $187.49
Maybe you've already tied the knot. Or, perhaps, you're looking for a gift for a newer love, your mother, or even your close friend. Either way, we'd recommend stackable rings. Select multiple pieces to mix and match the stones and metals, and give the recipient some variety.
Alternatively, choose a single stackable ring to dress up your loved one's current jewelry ensemble. From eternity rings glittering with diamonds to contemporary rings with small crosses at the center, these pieces are sure to make an impression. Once they're unwrapped, your special love can choose to stack them permanently by having a jeweler solder them together, or they can just as easily wear them loose.
Birthstone Jewelry
There's no more sentimental piece of jewelry than birthstone jewelry (sometimes called "family rings"). The reason for this is simple: each stone represents another member of the family. By incorporating each child or family member's birthstone into the ring, you'll end up with an heirloom-quality personalized jewelry gift for her.
The process for creating a family ring is similar to designing a custom engagement ring. First, choose a ring setting that fits your loved one's style. Do they prefer simple or more ostentatious jewelry? Do they wear gold or white gold? Determining these small details will help you create a piece that is sure to become your loved one's new favorite. Next, choose from loose diamonds or gemstones to match the months you're searching for. One of our expert jewelers will then take your selections, along with any other input you provide and fashion your ring into a remarkable personalized jewelry gift for her.
Unique Diamond Earrings

7/8ct Diamond Earring Studs Jackets 14K White Gold (5.5-6mm) (G-H, I1)- $495.99
Diamond earring jackets are a novel way to turn standard diamond stud earrings into something even more phenomenal. Choose from traditional round or square jackets for those who appreciate an elegant and refined look, or allow that special someone to create a style that's all their own with floral or burst jackets.
Many people love this personalized jewelry gift for her because they can easily transform their everyday stud earrings in just seconds. Diamond earring jackets simply slide onto the post of the stud before it's threaded through the earlobe. The effect is seamless, and while in the ear, the jacket and stud appear to be one piece of jewelry.
Choose Pompeii3 for Custom Jewelry Gifts
Don't be intimidated by the thought of buying a meaningful gift of jewelry. Your friends here at Pompeii3 are with you every step of the way. For over 100 years, we've been helping customers find their perfect piece of jewelry, whether it's something from our extensive catalog or a piece that needs to be custom-made.
Moreover, when you purchase custom jewelry gifts from Pompeii3, you'll also get the highest level of customer service you'll find anywhere in the industry. We gladly offer a free 180-day warranty on all of our products and ship them free in a beautiful gift box. This holiday season, give your loved one something that will last for years to come. Give them something from Pompeii3. Contact us today so we can help you choose the perfect personalized jewelry gift for her.